Searching openly licensed resources
The following guide uses the following keywords to refer to websites, repositories and content platforms:
- Multimedia: this means that you can find any type of media (images, sounds, video, documents and many more);
- Vector graphics: high quality graphics that don't diminish their quality in comparison with raster images, mainly composed by icons and drawings;
- Images: websites that only offer images;
- Sounds: websites that only offer sounds and are better suited for searching this type of content.
General tips for your search
Search for the CC license or tool
There are many, many, many repositories out there that have openly licensed images. Some of them don't use standard CC licenses, but rather use their Terms of Service (ToS). These terms and conditions are similar to what CC licenses offer. However, they are not compatible with the CC licenses, so you need to evaluate carefully whether to incorporate them in your work or not.
Unsplash or Pixabay have such custom Terms of Service or licenses. The license of Unsplash is similar to a CC0 waiver, but it has specific conditions that make it substantially different from a CC0. These differences can cause confusion. For example of a confusing effect, see Unsplash's answer to: "Can you help me take down a photo on a third-party site?". Using sites that offer CC licensed content is easier. When in doubt if the website is offering the material under a CC license or their own custom terms, check their Terms of Use or Conditions.
Additionally, you might also want to use resources that are licensed under the latest version of the CC licenses (version 4.0).
Use search filters
To get the most out of all the resources that are available under open licenses, you need to make use of the extensive search filters that repositories of content (images, videos, sound) offer. In some websites it's easier than in others, but in general most of these repositories offer some type of search filter. In some repositories, like Wikimedia Commons, all the content you find will allow for re-use, so you will never find  Non Commercial or Non Derivatives licensed content. But if you're searching on a website like Flickr, using the search filter is crucial to only search for content you can reuse.
Pro Tip: Build your personal list of websites for finding openly licensed content. Different open-licensed content sites have different strengths and weaknesses. Focus on the ones best for your content needs.
Check the quality of the resources
Depending on which repository you are searching for content, the quality of the resources might be fit for some purposes but not for others (for example, they might be adequate for posting on the web but not for printing). Normally, most repositories will allow you to filter also for quality.
Searching in languages other than English
Some multimedia platforms and repositories support multilinguality, while others don't. Of course, you will find out soon enough the moment you try to do a search on a language other than English and don't get any results. That's when no multilinguality is supported. However, in some cases what can happen is that multilinguality is supported only to a certain extent. For example, look how different the results are on Flickr if you search for "mujer", "wanita" and "woman" (the search doesn't have any filters by license). The same happens in most repositories, so if you don't find what you're searching for, try using keywords in another language, if you happen to speak more than one language.
Multimedia
Wikimedia Commons
Wikimedia Commons is the multimedia repository of the Wikimedia Foundation. It's also the central place that stores most of the multimedia used in Wikipedia articles. 
Although many people turn to Wikimedia Commons to search for pictures and other images or graphics, there is also a vast set of other important resources, such as sound, documents  and video available on Wikimedia Commons. 
Wikimedia Commons can be a hard repository to navigate if you use the default search box. But there are many other ways in which you can actually get the most out of Wikimedia Commons. In this whole section, the explanations will be used to find photos, but most of what is being explained can be applied to search for other multimedia content. These are general search step-by-step guides to get the most out of Wikimedia Commons.
Also, bear in mind that different search functionalities in Wikimedia Commons offer different results.

Search with Special:MediaSearch
Special:MediaSearch is an experimental search tool with improved algorithms for finding content, that is currently being tested with the Commons community. Even as a Beta service, it produces very high quality results when searching Commons:
On the search box on Wikimedia Commons, type: "Special:MediaSearch".
Special:MediaSearch will retrieve better results than a regular search in the search box. 
Special:MediaSearch is singular/plural sensitive. If you type "readers" instead of "reader", you might receive slightly different results.
In Special:MediaSearch you can browse through different type of media content (images, audio, video, categories, and also other file formats, such as PDF or DJVU). 
In Special:MediaSearch you can select the size for images (small, medium, large).
In Special:MediaSearch, for all media, you can search for specific file formats that correspond to that media (for example, in images, you can search for JPG, XFC, etc), and also sort by relevance, by choosing from the dropdown menu.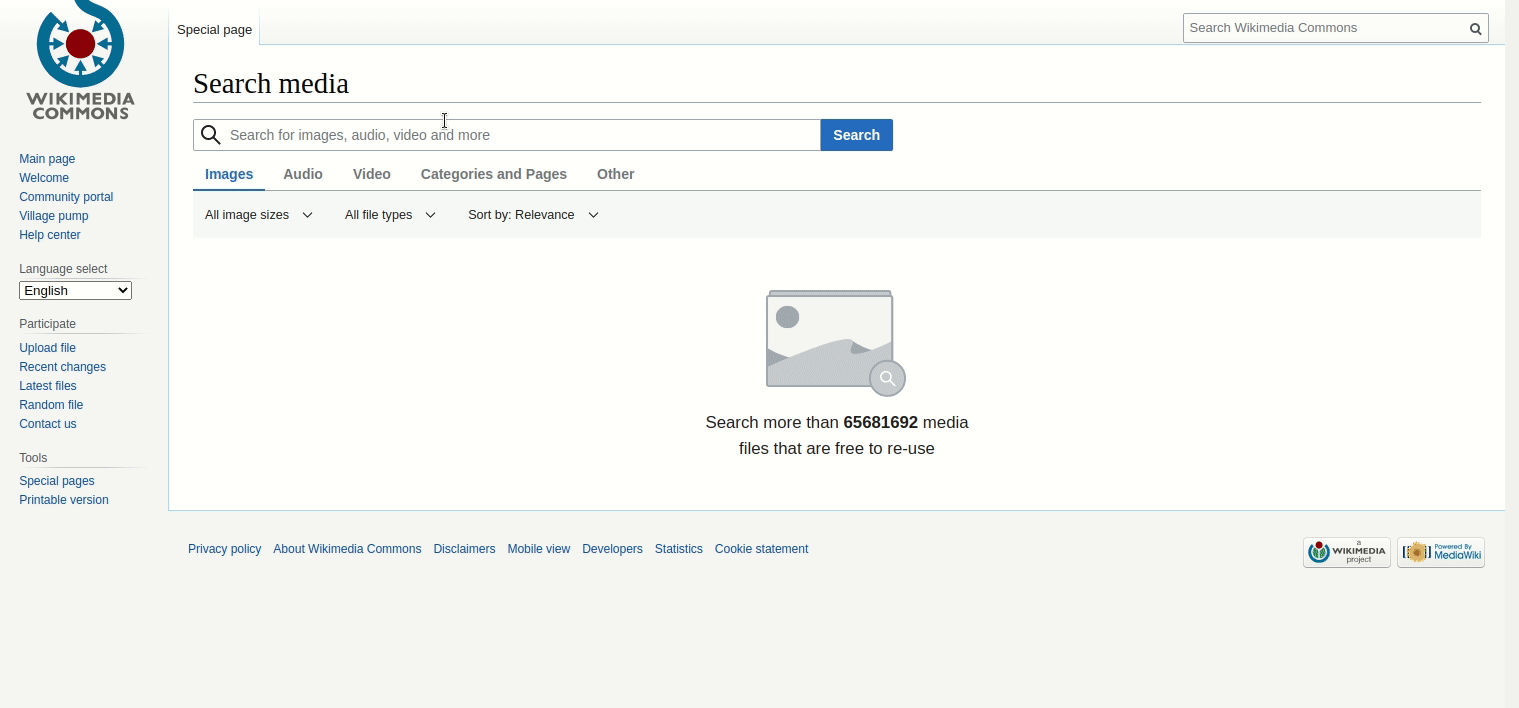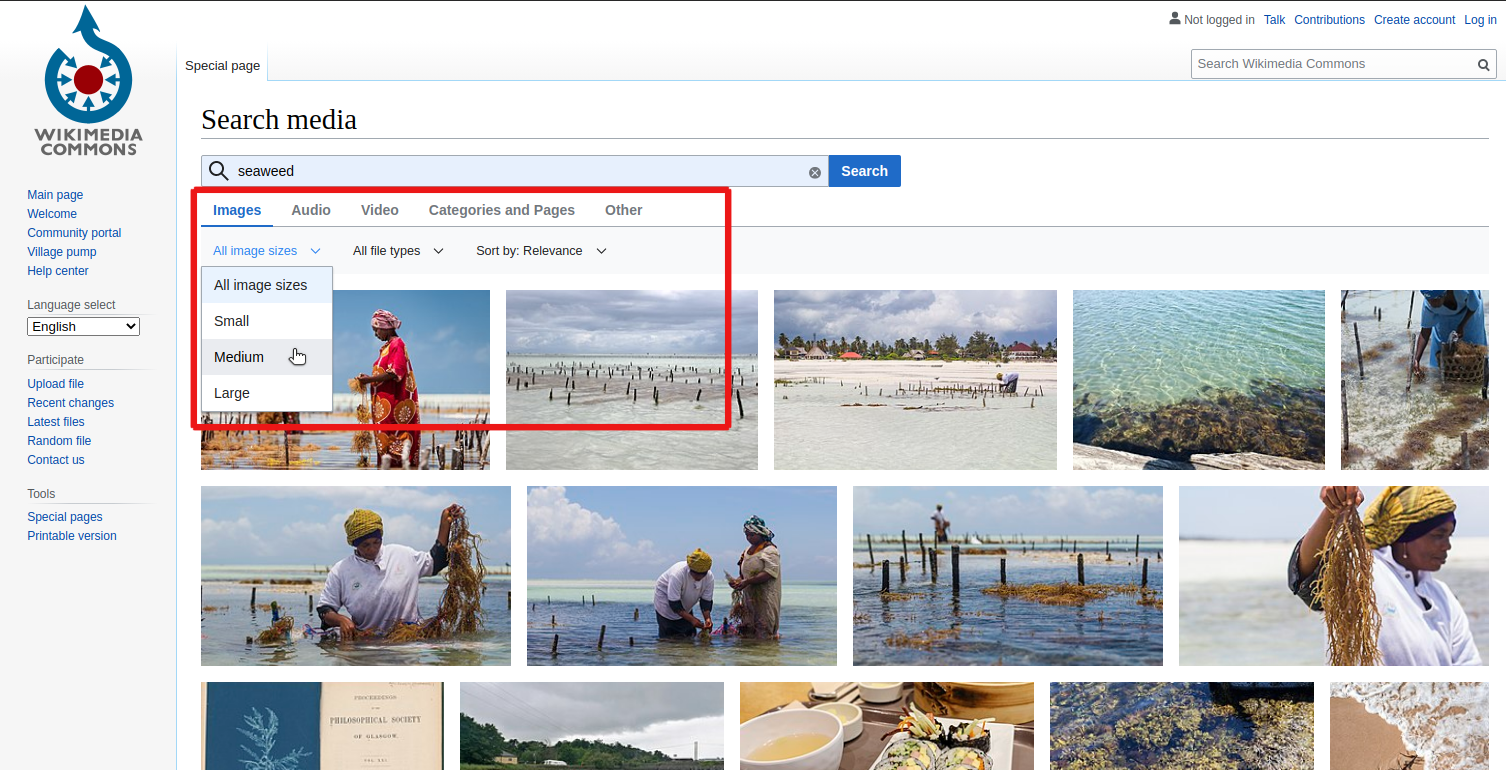 By sorting and filtering, you make sure that you are getting something that gets you closer to what you want. For example, you avoid getting back search results that give you small images that then you can't reuse outside a website.
Discover through categories
Categories by type of media
Another good way to discover content in Wikimedia Commons is through the "Categories". Categories are the way in which originally most of the information in Wikimedia platforms (including Wikipedia and Commons, but not limited to them) was hierarchically organized. Categories have then a main category and then subcategories.
When you enter to the main page, you will see the following resources being listed:

These are categories. In the Category:Images you will find subcategories organized around different criteria: technical aspects, certain types of depictions, among others. You can browse those subcategories according to your needs, but highly recommended are the subcategories Category:Featured pictures, Category:Quality images, Category:Valued images. These are images that have been featured at any given point on Wikimedia Commons due to their technical quality and their relevance to illustrate a topic.
A similar category exists for Category:Sounds and Category:Videos. The Category:Videos also has its subcategory Category:Featured media.
Categories by topics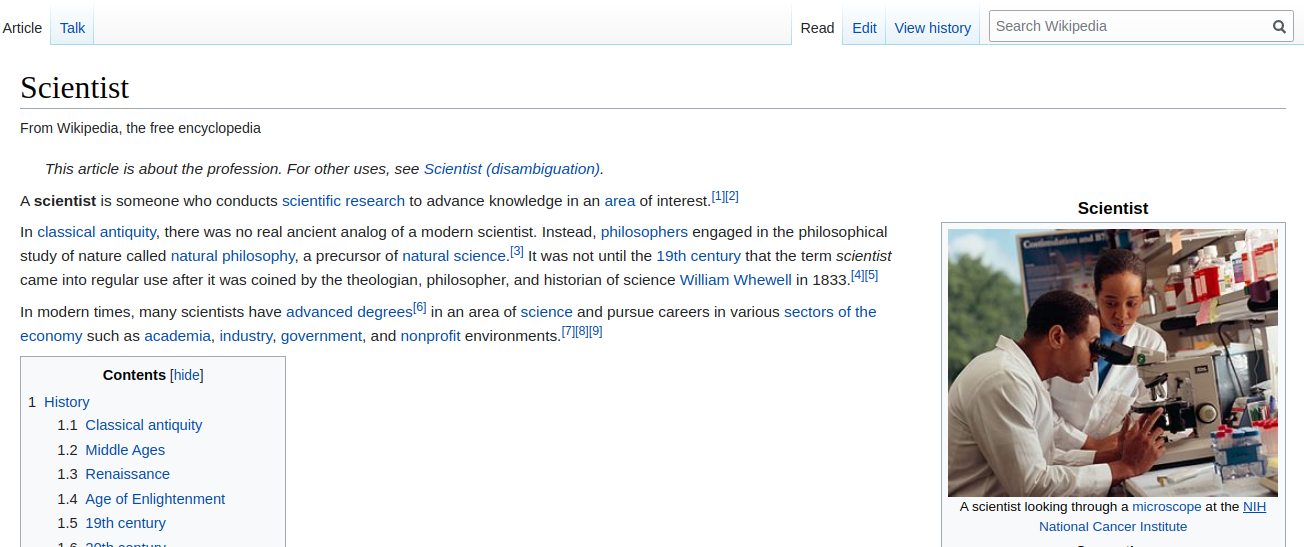 If you click on the photo, it will take you to the Media Viewer of Wikimedia Commons. But if you look into the right bottom corner, you will find a button that allows you to click on more details: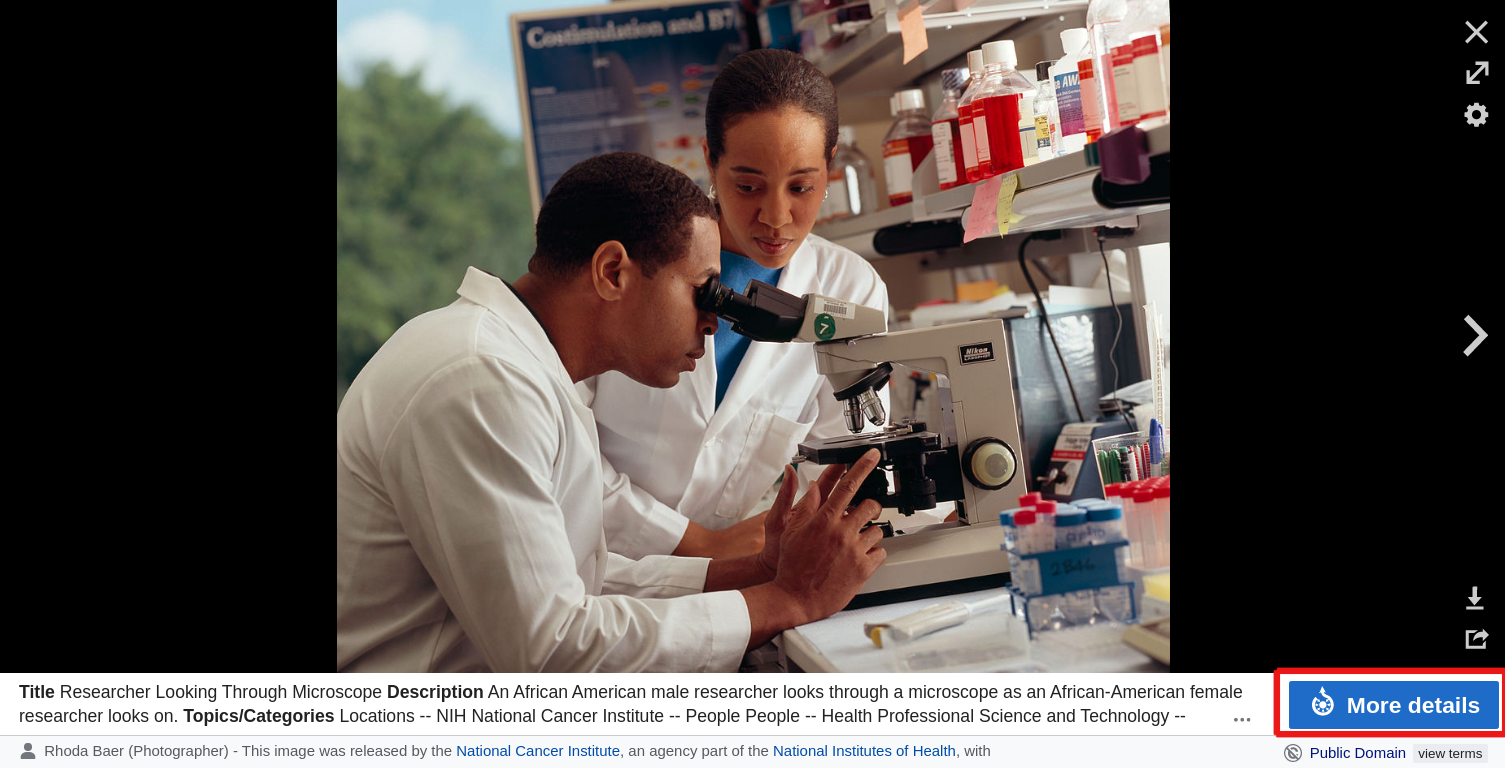 That will take you directly to the file stored in Wikimedia Commons. And, in there, if you go all towards the bottom of the page, you will find the Categories that the photo belongs to:

In this case, the photo belongs to Category:Men with microscopes. But you're interested in women scientists. Fortunately, you can search through categories using the search box at the top of the page.

 There, you can actually type and search for specific categories. So in this case, you would modify your category to be Category:Women with microscopes (and you will be redirected to "Females with microscopes"!). In short, whenever you like a photo on Wikipedia but you are not sure how to find similar or related photos, searching through categories is a good option.
Contests and campaign drives
The Wikimedia communities also organize photo contests and campaign drives to incorporate content to Wikimedia Commons. These campaigns and contest drives tend to be focused on incorporating specific types of high-quality content into the platform, for example, to highlight the diversity of a continent, of a range of cultural practices, or even of buildings. They are also normally called "Wiki Loves…" and you can find all the contests that have been happening in the page "Wiki Loves Contests".
 These contests and campaign drives have their own set of categories. Some of these very popular contests that have been running for a while are the following:
 You have to scroll down to the bottom of the page to find the partner category to which they belong and navigate through all the different subcategories. 
How to attribute authors using the "Media Viewer" in Wikimedia Commons
Building the TASL attribution with Wikimedia files actually takes some work. Remember you have to include:
Title
Author
Source
License
Preferably, in the title you would also include the link to the source. But there is also a simpler way to do this. However, be careful because this step doesn't always work as expected, so you want to make sure that it is providing all the information you need to build the TASL attribution.
 Suppose you entered into the file page through a search. In that page, you will find basic information and description of the file that will allow you to build your TASL attribution from scratch. But if you click in the button that says "Open in Media Viewer", it will take you again to the Media Viewer.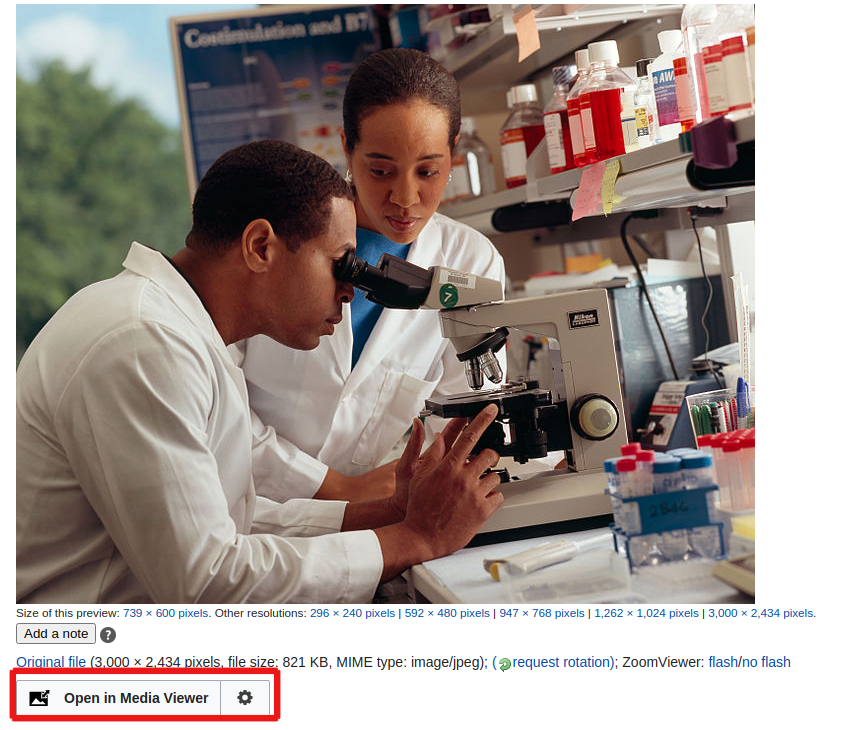 Once in the Media Viewer, you can use the arrow right on top of the button "More details". That will display different download options, but it will also display a message that "You can attribute the author" (or alternatively, "You need to attribute the author", if the work is not in the public domain).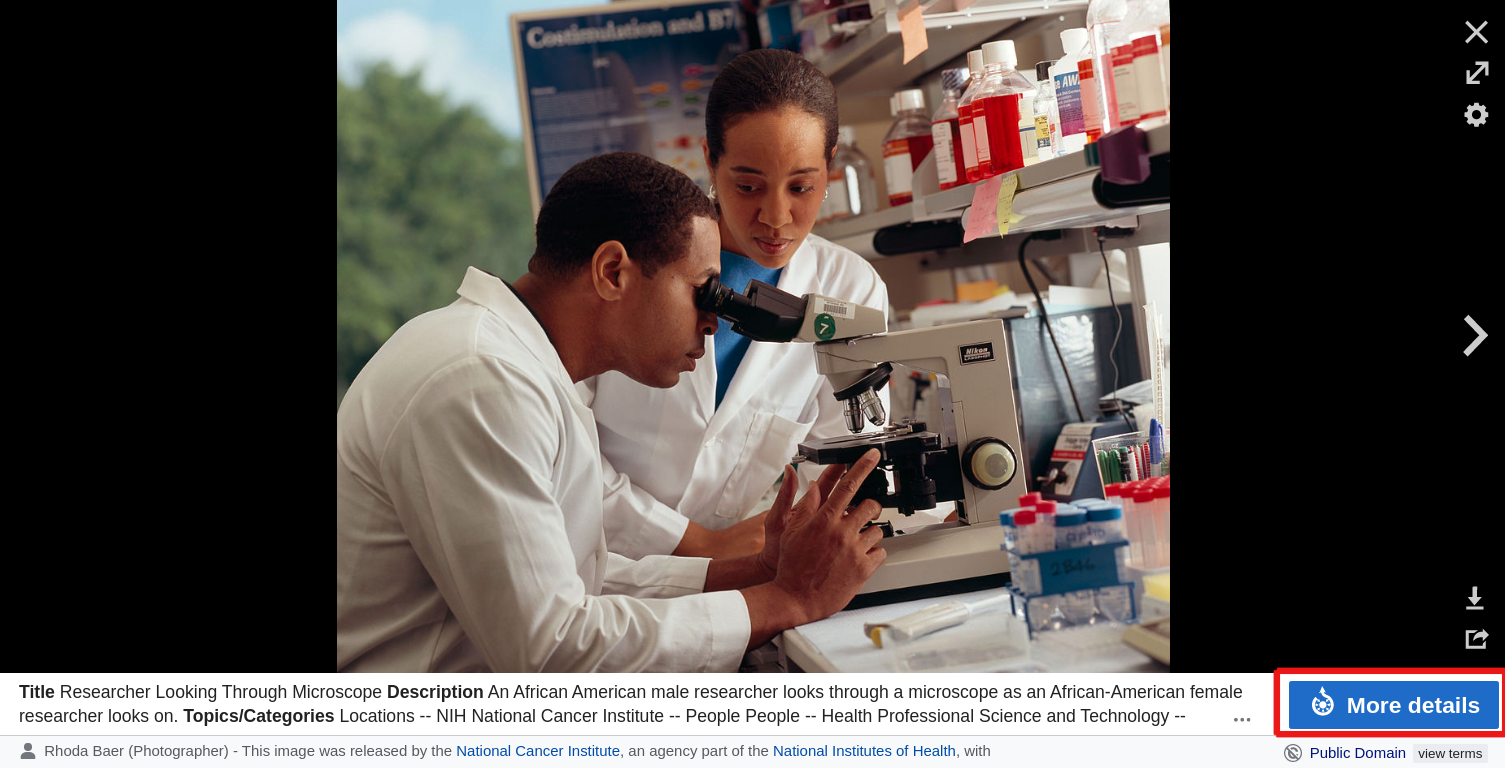 If you click on "Show me how", it will give you these options: "Plain" and "HTML". And then you just on the copy button.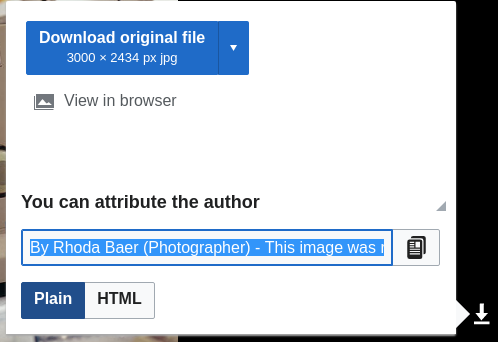 Cultural heritage institutions
Another source of great quality content are cultural heritage institutions. There are many benefits to using content made available by cultural heritage institutions.
Quality: the content that cultural heritage institutions provide tends to be of very high quality, particularly when it comes to reproductions of artworks and archival material.
Reliability: cultural heritage institutions have workflows and processes in place for doing proper copyright clearance. This means that, when possible, they only make available content that they know for sure is free of all copyrights, or they indicate otherwise if the content is not freely available.
Cultural relevance: many cultural heritage institutions provide content that is relevant for the region, jurisdiction or country where they are based at. While this doesn't mean that their content is not biased in some way, they tend to provide more culturally relevant content. 
Cultural heritage institutions take different approaches to how they provide content. Some offer their content through their website, through an aggregator 1, and on third-party platforms like Wikimedia Commons. But others only choose to offer their content on their website; others will only use aggregators; and others will only use third-party platforms like Wikimedia Commons or Flickr Commons. Approaches will vary, as well as in some cases their licensing practices.
Caveat: The reader might find this section biased towards North American, European or otherwise Western cultural heritage institutions. Collecting practices of cultural heritage institutions are heavily tinted by colonialist practices. Some of these institutions have "world class collections" by virtue of colonization and other similar practices. Their wealth of resources and knowledge has allowed them to enter speedily into the digital era, while the rest of the world is still unable to participate in a foot of equity. When possible, cultural heritage institutions from other parts of the world are signaled, but the copyright status of the resources being offered by these institutions is way less clear and reliable than the ones being highlighted.
Cultural heritage institutions worldwide
Knowing which institutions have decided to release their digital reproductions of work around the world can be very challenging. Luckily, the Collections Manager of Europeana, Douglas McCarthy, and Dr. Andrea Wallace, Lecturer in Law at University of Exeter, have been maintaining a spreadsheet on "Survey of GLAM Open Access Policy and Practice" (GLAM means "Galleries, Libraries, Archives and Museums''). While the goal of the survey is to track policies, it also provides useful links that allow to discover the media repositories of these institutions.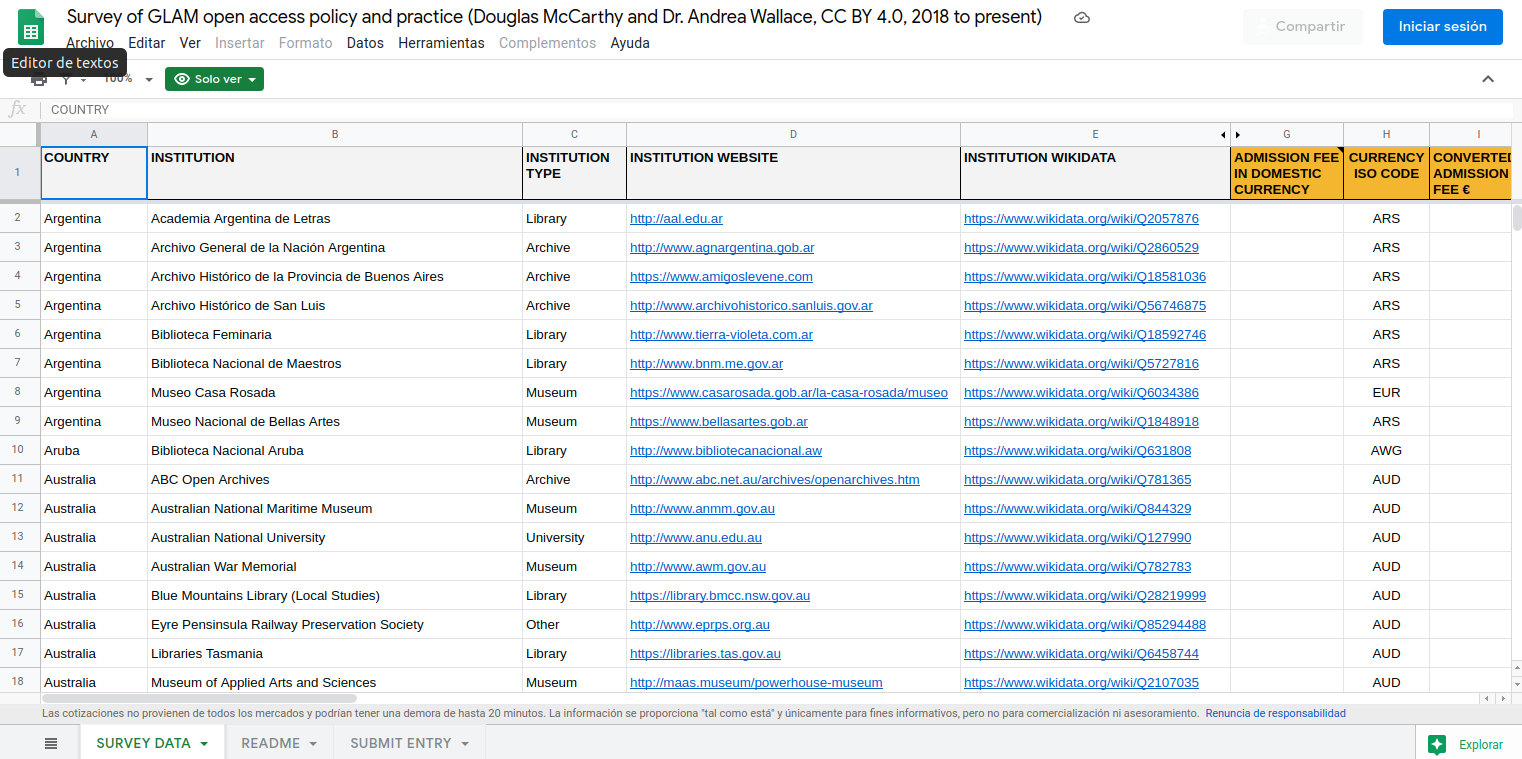 At the time of this writing (November 2020), "Column R" offers the data "OPEN DATA SOURCE 1". That's the link where most of those media files can be accessed. Using the sorting functionalities of the Google spreadsheet, anyone can search, for example, all the cultural heritage institutions from COUNTRY (column A)  that have as OPEN DATA SOURCE 1 (column R) "flickr.com". 
Importantly enough, this survey only tracks institutions that make their digital reproductions available under CC BY, CC BY-SA, Public Domain Mark, CC0 or No Known Copyright (a label by the RightsStatements consortium). Currently "Column K" offers the data "LICENCE/RIGHTS STATEMENT FOR DIGITAL SURROGATES OF PUBLIC DOMAIN OBJECTS". In case of doubts on the scope of the policies being captured in the survey, you can read Douglas McCarthy summary of the survey in "Uncovering the global picture of Open GLAM". 
This survey is not a repository. Is only pointing to the repositories of institutions (currently in Column R). However, it tends to be a very good discovery tool if you want to understand where you can find the resources being made available by some of these cultural heritage institutions.
Aggregator: Europeana
Europeana is the aggregator of all the cultural heritage institutions from Europe. Europeana collects material with a "Publishing framework" that ranks institutions that openly license their content better than the ones that don't, so whenever you are making a search, you are likely to get first the multimedia content that you can freely reuse. 
However, this means that not all content you find in Europeana can be re-used. For that reason, Europeana has put together a set of search filters that allow you to search only for material that you can reuse. They explain more on their policies in this FAQ about Reusability. This is a very short FAQ that you can keep handy whenever you have doubts about reuse conditions.
Using search filters on Europeana
Europeana also holds different types of media, from images to drawings to videos and sounds, and much more. For that, they offer different search filters.
Go to http://europeana.eu 
On the top right corner, you will find the magnifying glass that symbolizes the search function.
Type your keywords.
That will give you the first search results. Then you can apply the different search filters using the dropdown menus:

Collection
Type of media
Can I use this?
Providing country
More filters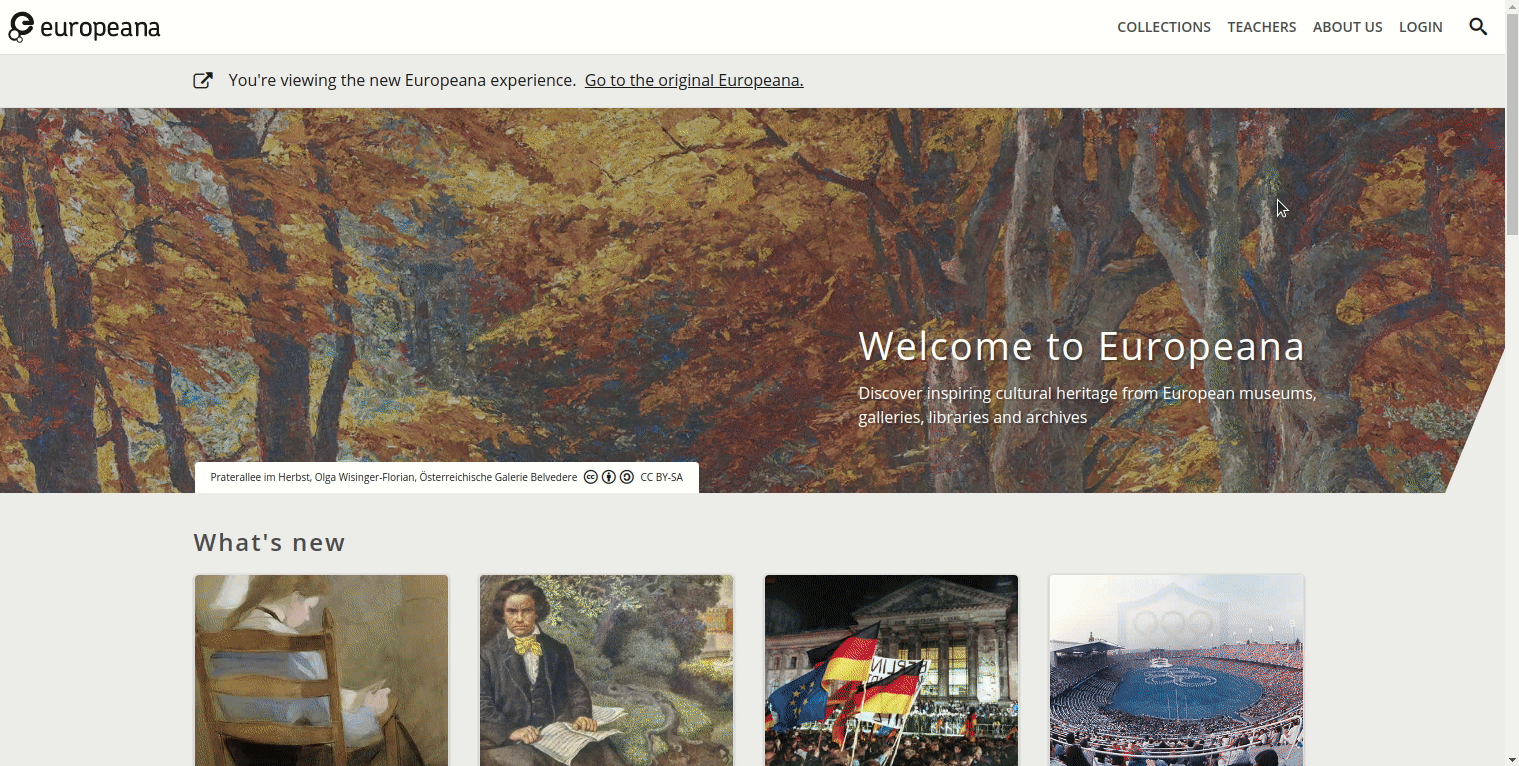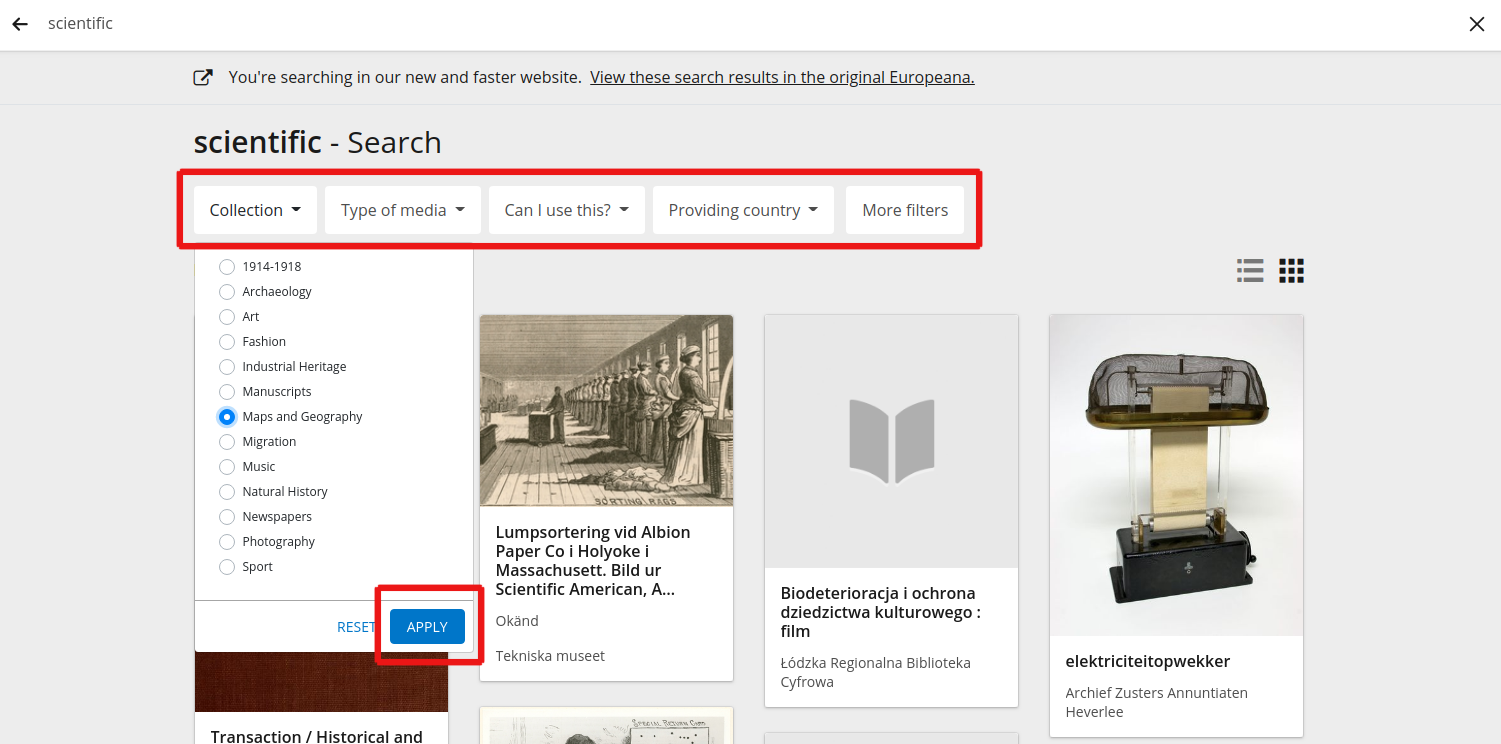 How to attribute easily using Europeana
Once you have selected a resource that you like, you will find lots of relevant information in the resource. 
Take a look at this picture from the Wellcome Collection of a "Mouse health check", taken by Caroline Gunn.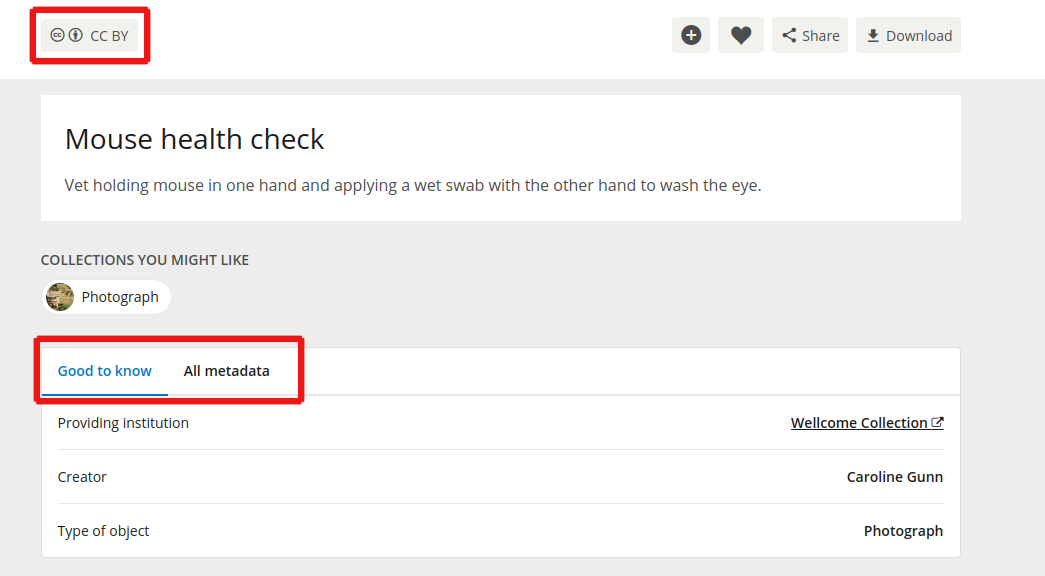 After the picture, you will find: 
the information about the license;
download & share buttons;
a tab that says "Good to know" with the very basic information and then "All metadata", that provides you more details about the photo you are looking at. 
With the information that the "All metadata" tab provides, you could already put together your TASL attribution. "Mouse health check by Caroline Gunn is under a CC BY 4.0".
However, there is even an easier way to do that. In the line of "Providing institution", you can see that it says "Wellcome collection" and then has an arrow to indicate that if you click there, it will take you to an external site, different from Europeana. This is the source of that image. If you click there, it will take you to the page where Wellcome Collection is providing the original file. And if you expand the "Can I use this?" button, at the end it will automatically provide you the credit line: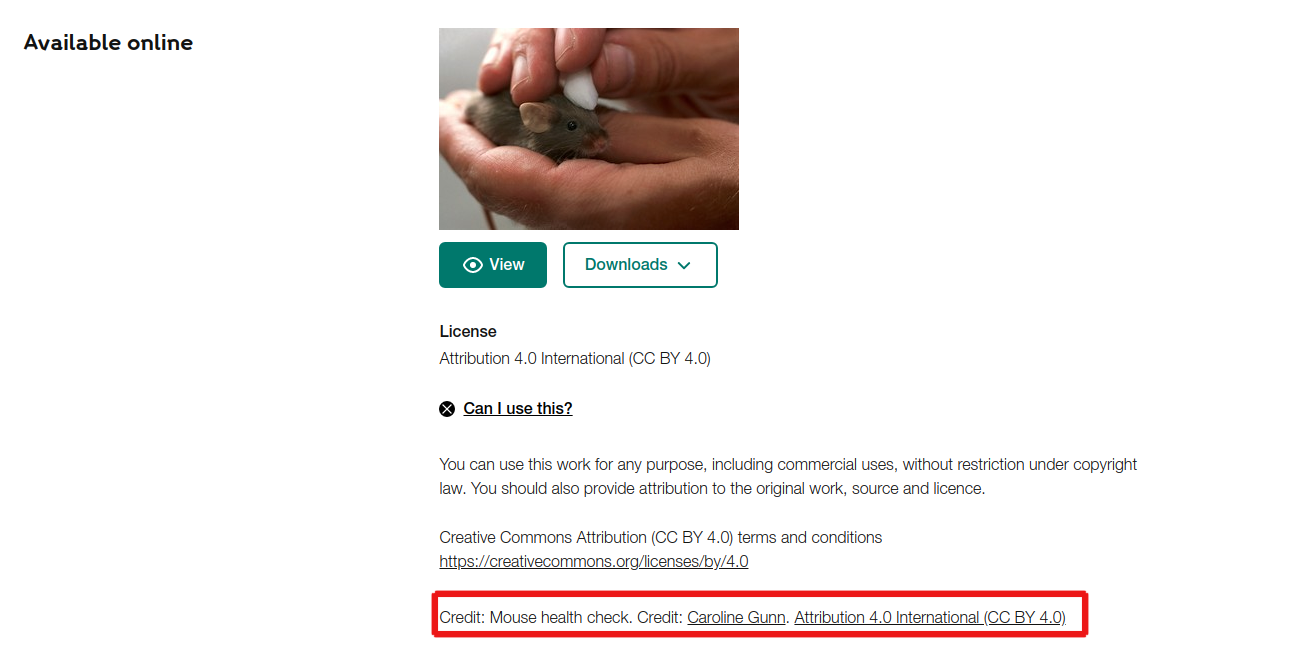 The only thing that you will need to add is the link to the original file in the Wellcome Collection website. Additionally, it is also good practice that you credit the cultural heritage institution that is providing the resource.
Bear in mind that not all the providing institutions will have this readily available, but most of them will. If you can't find this credit line easily in the source file, you can still put together your TASL information by checking on the "All the metadata" tab.
At the bottom of the main page of Europeana, you will find that there is some featured content.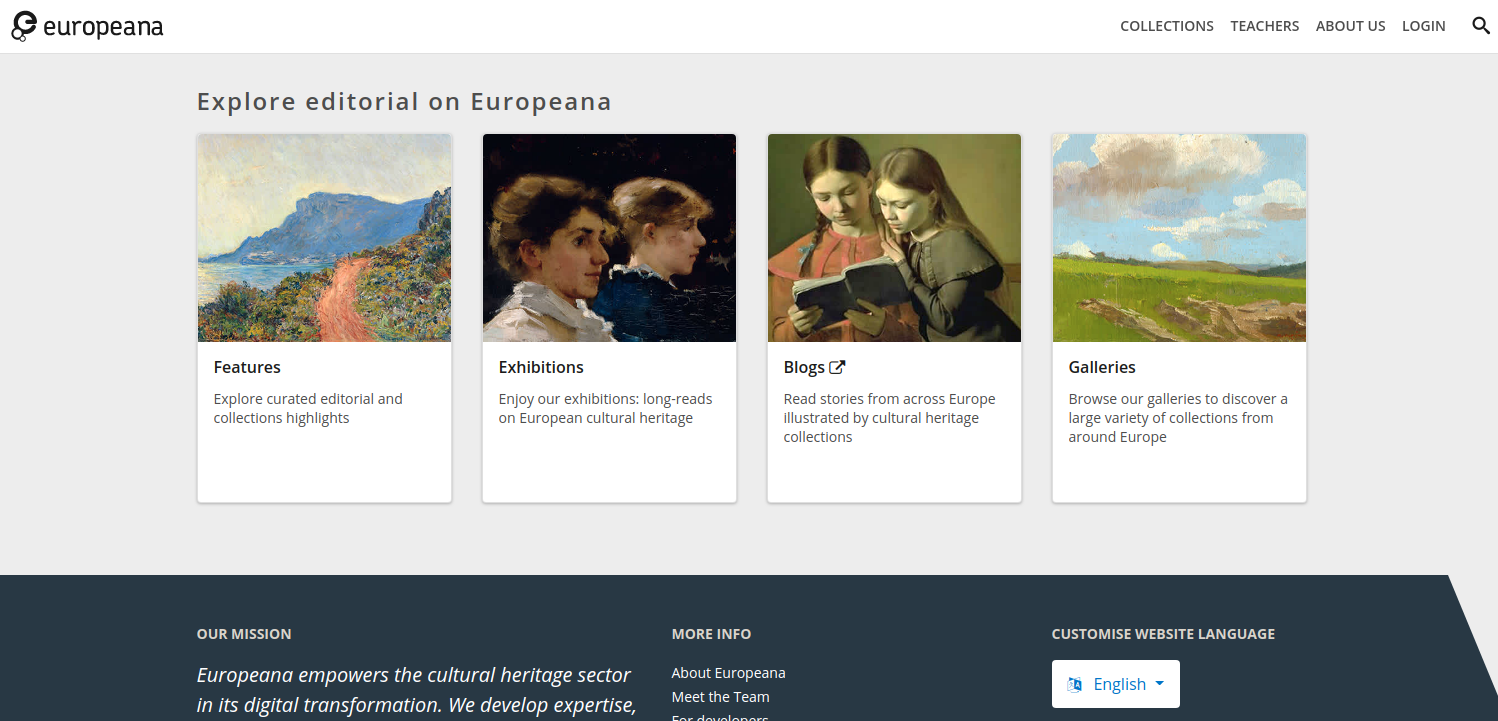 In there, featured content is organized in Features, Exhibitions, Blog and Galleries. This is curated content selected by staff members at Europeana. You can't filter your search in this featured content, so you need to go to any individual file that you might like in order to check that the content is licensed in a way that you can reuse. 
Aggregator: DPLA
The Digital Public Library of America is an aggregator of US cultural heritage organizations. It has over 40 million items to browse, although not all of them are re-usable. DPLA currently does not have a search filter option that allows you to filter by type of license, which means that you need to click manually on each digital object to find out whether you can re-use it or not.
On the bright side, it does have some features that allow you to browse by topic, by partner institution, or discover content through their exhibitions curated collections. Their advanced search options do offer some interesting search filters to narrow down the search. You only need to click on the "plus" sign to expand the options that the search tool offers you: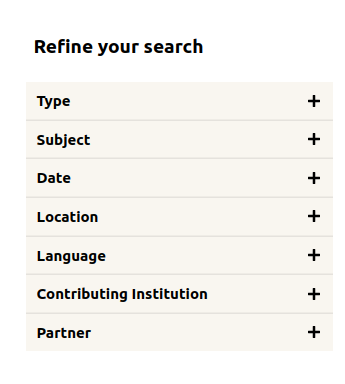 Again, be very careful because not all the digital objects at DPLA are reusable. Search for the right status of the objects in their individual entry to find out if you can reuse them or not.
Other aggregators & featured cultural heritage institutions
Europeana and DPLA were probably the first aggregators to see the light, but there are many others, since aggregators offer a wide range of benefits to both users and cultural heritage institutions.
 It would take a significant amount of time to review all the search functionalities that every aggregator offers. However, we do want to point out to some other aggregators that you might want to dig into:
Caveat: some of these aggregators offer some openly licensed content, so you need to make sure that you are following the copyright information in the description of the item or abiding by the terms of use of the website. In case of doubt about the copyright status of the objects, avoid using them.


Additionally, there are some cultural heritage institutions that need to be highlighted. These already appear in the "Survey of Open Access Policy and Practice" by Douglas McCarthy and Dr. Andrea Wallace mentioned above, but they deserve a special mention as places to search for multimedia content since they offer very high-quality and reusable multimedia content.
Other good cultural heritage institutions you could look for content are The Metropolitan Museum of Art & the Cleveland Museum of Art.
Internet Archive
Internet Archive is a project that offers multiple services. To begin with, as it has been mentioned here already, Internet Archive is responsible for the Wayback Machine, which functions as an archive for the web. It has also partnered with several heritage institutions around the world to digitize their public domain books and other content, offering over 20 million books and texts. It also has video, audio, TV, software, and much more. If you click in each individual icon at their front page, you can enter into each category directly.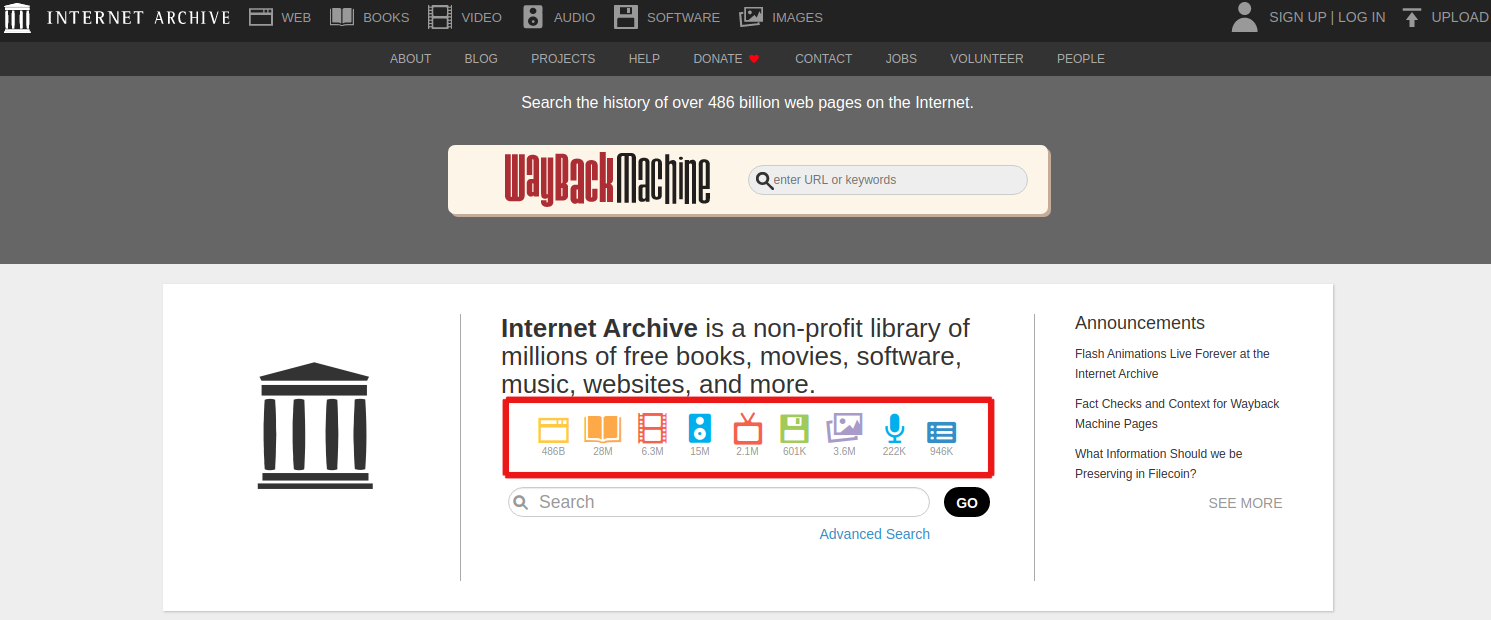 Internet Archive has content from very different sources, from cultural heritage organizations to community people that are interested in sharing their multimedia content with the world. Internet Archive also allows for material with any type of license, even including some content that might have an "all rights reserved" statement. 
 Internet Archive is massive. Make use of their search filters as much as you can, because they will retrieve more useful results than if you just make a very general search. Particularly important is to browse the collections in each category. For example, if you are searching for video, and you want some interesting beginning of the 20th century videos, then you will need to check the collection of the Prelinger archives. Internet Archive has content that no one else has, but sometimes you need to be patient and be willing to browse through their content.
Finding "rights" information in Internet Archive
The search interface doesn't have any options to filter by license, so it's up to the user to figure out where the license is located.
In this example file, "The Road to Apollo", the description of the file has a field "Rights" that states that the file is public domain.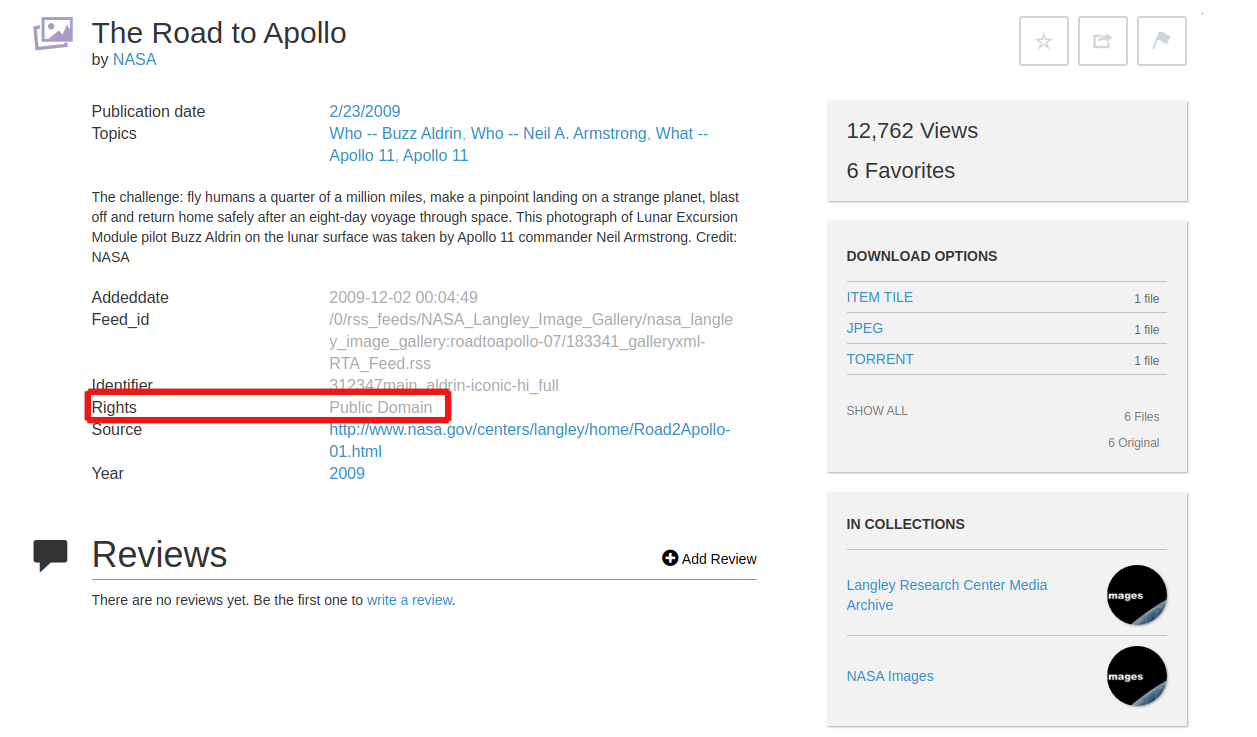 In other cases, such as in this example of The Voynich Manuscript, the information appears on top of the file description: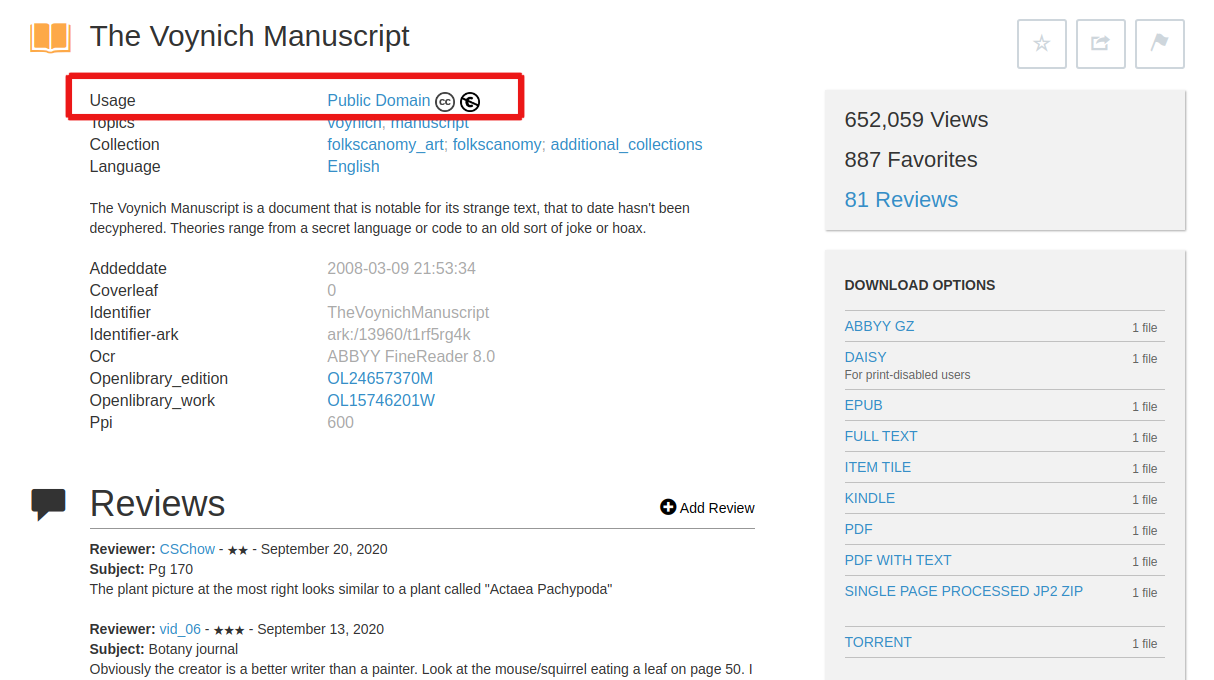 Sometimes, like in this photo, example from The Met Museum, the field "Rights" will take you to an external URL to read the Terms & Conditions of the website where the photo is taken from.
And in some other cases you might not find any "Rights" field being displayed at all! In those cases, avoid using the files unless you are able to perform your own risk assessment.
Flickr
Flickr is a very popular website to upload all types of images and videos. Flickr was also an early adopter of CC licenses, which means that there is a wealth of content on Flickr that is openly licensed. Flickr offers the full range of CC licenses and tools (the six licenses and the two public domain tools). By using the search filters, you can pick from content that you can freely reuse. If you click on the three dotted lines on "Advanced", Flickr will also offer you other options, like orientation, minimum size, date, and type of content. This is for example a search for "cucumber videos of medium size that allow for commercial use and modifications". This narrowed down the results, retrieving this time-lapse video of cucumber seedlings that could be uploaded to Wikimedia Commons and used in the cucumber article, for example.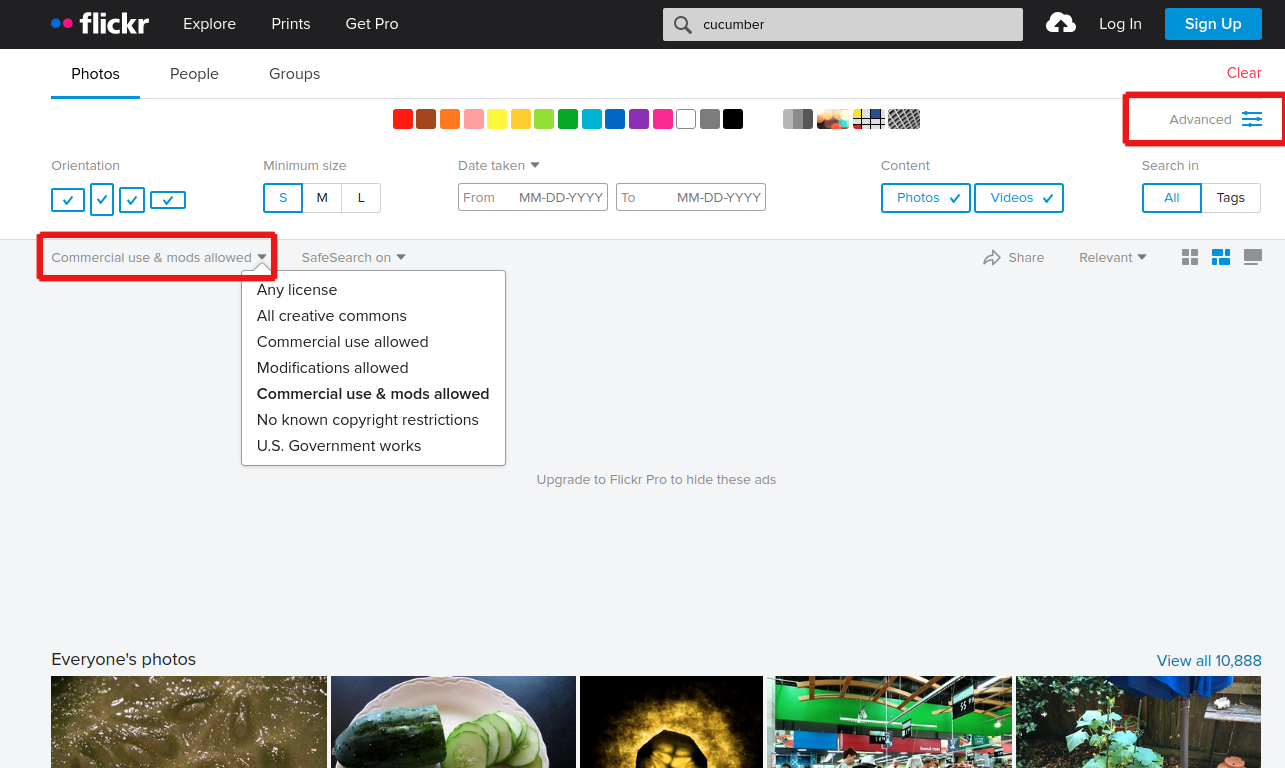 To build the attribution information, you can click on the "all sizes" button (for example in this image):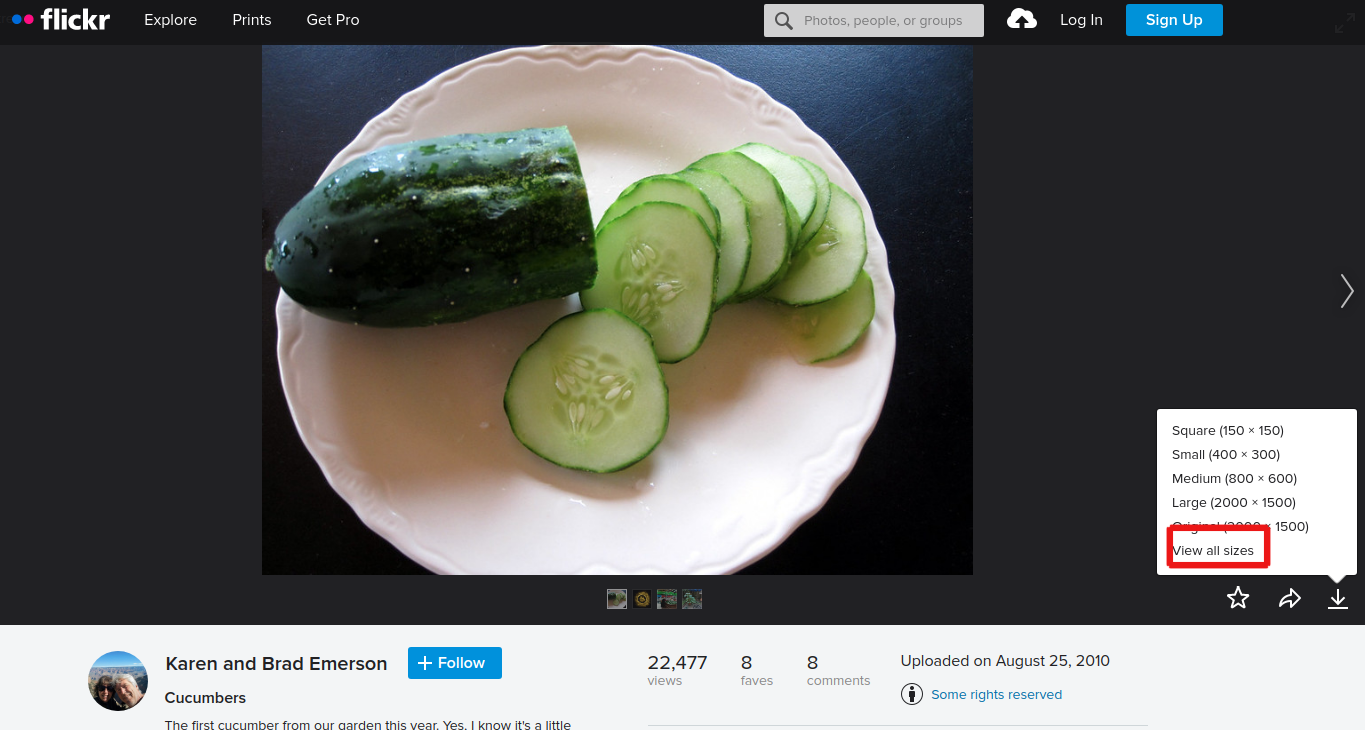 That will take you to the following page, where you can extract some of the information to build the attribution statement with the TASL approach: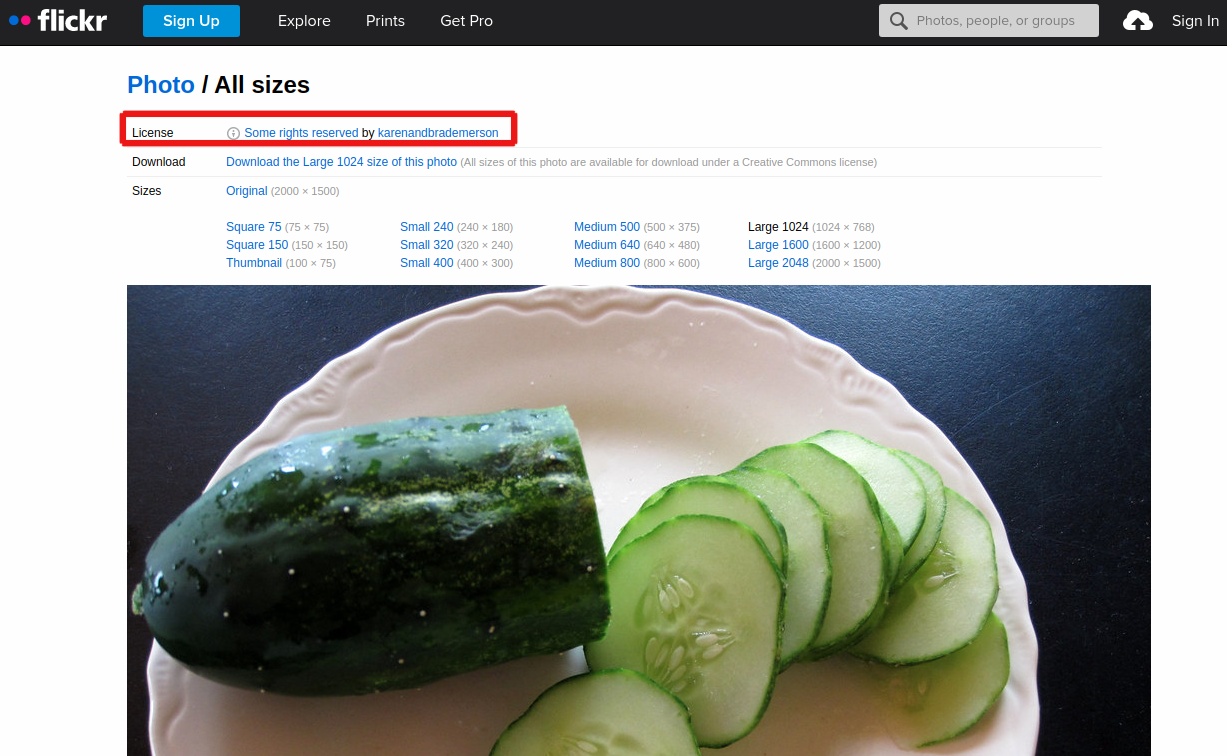 Then you will need to add the title and provide the source. 
Flickr Commons
Flickr Commons is the service that Flickr provides to cultural heritage institutions to upload their multimedia content. Often, content that has been uploaded to Flickr Commons is openly licensed or has a Public Domain Mark.
Other government or public institutions
More databases governments are starting to realize the benefits of openly licensing their content. They apply open licenses to databases, government websites, and even to press releases that normally include high quality photos and other types of multimedia content. 
Often, Wikimedia volunteers upload these photos to Wikimedia Commons, meaning that they will likely be found there. However, since governments and state institutions are quite complex, it is hard to tell whether all the material that you might be able to find is on platforms such as Commons. A good idea is to check whether your national or local government does such releases. It is also a good idea to save the page that you are obtaining the content from with the Wayback Machine. Go back to "What happens if I use a material offered under a CC license and the author decides to remove or change the CC license?" if you have doubts on how to do that. 
Vector graphics: The Noun Project
The Noun Project is a very popular tool among graphic designers, both professionals and amateurs. Their service offers over 3 million vector graphics that are under either a CC BY 3.0 license (attribution required) or a CC0 public domain waiver (optional attribution). This website is now also offering photos. They are offering them under very different CC licenses, some of them including the Non Commercial and Non Derivative elements. Make sure to check which license the photos are under.
Their search interface is also quite simple, allowing search through very random keywords. The only downside of their search interface is that it is very monolingual, so it really only allows keywords in English. Another interesting feature is that the service has different "collections" of icons that might be related to a topic. For example, if you search for the keyword "work" you will find that the search results page offers several icons. But also in the top page, it will offer icons, collections and now photos.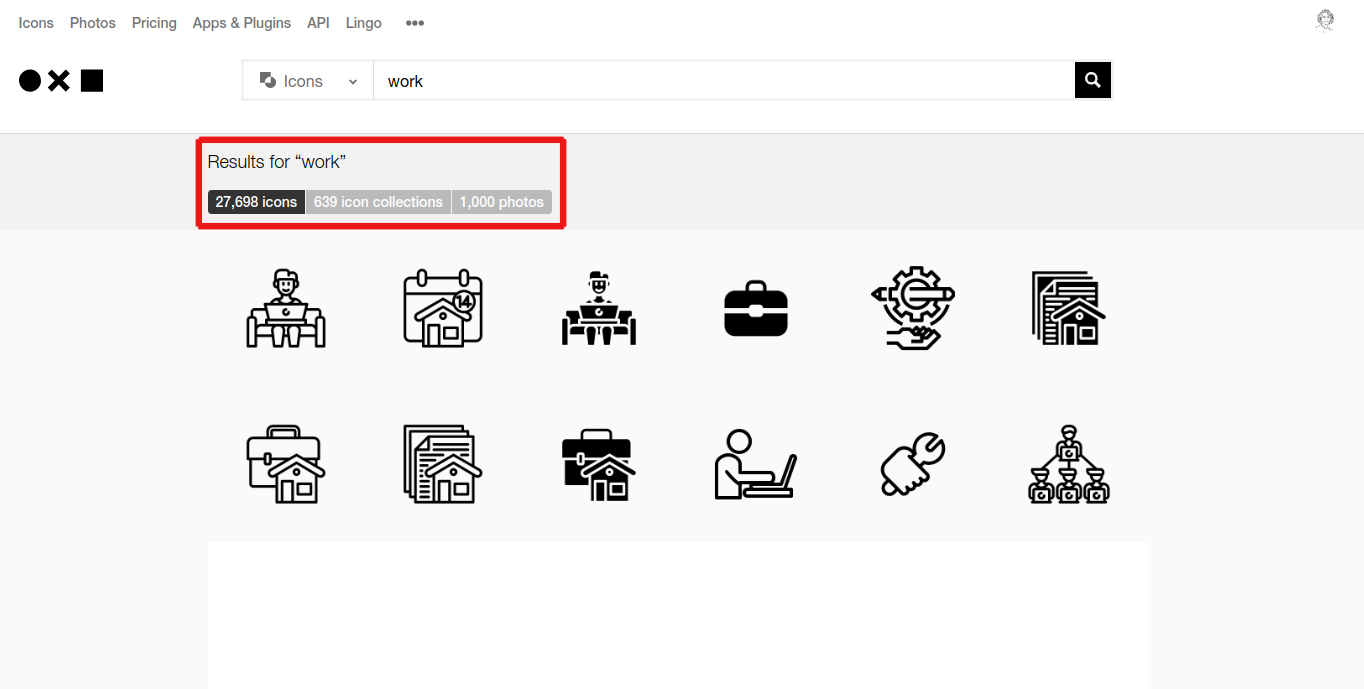 "Collections" put together a set of icons that are related with a topic. In this case, the "work" collections offer related icons to the "work" concept. This is useful if you know that you need more than one icon to a topic that has several different concepts related to it, and you want to keep the same style of icons. 
 Additionally, the Noun Project is more and more committed to diversity and being a more global community, so they are now putting out more icons that bring new representations of diverse people. Check out their very interesting collection "Redefining women"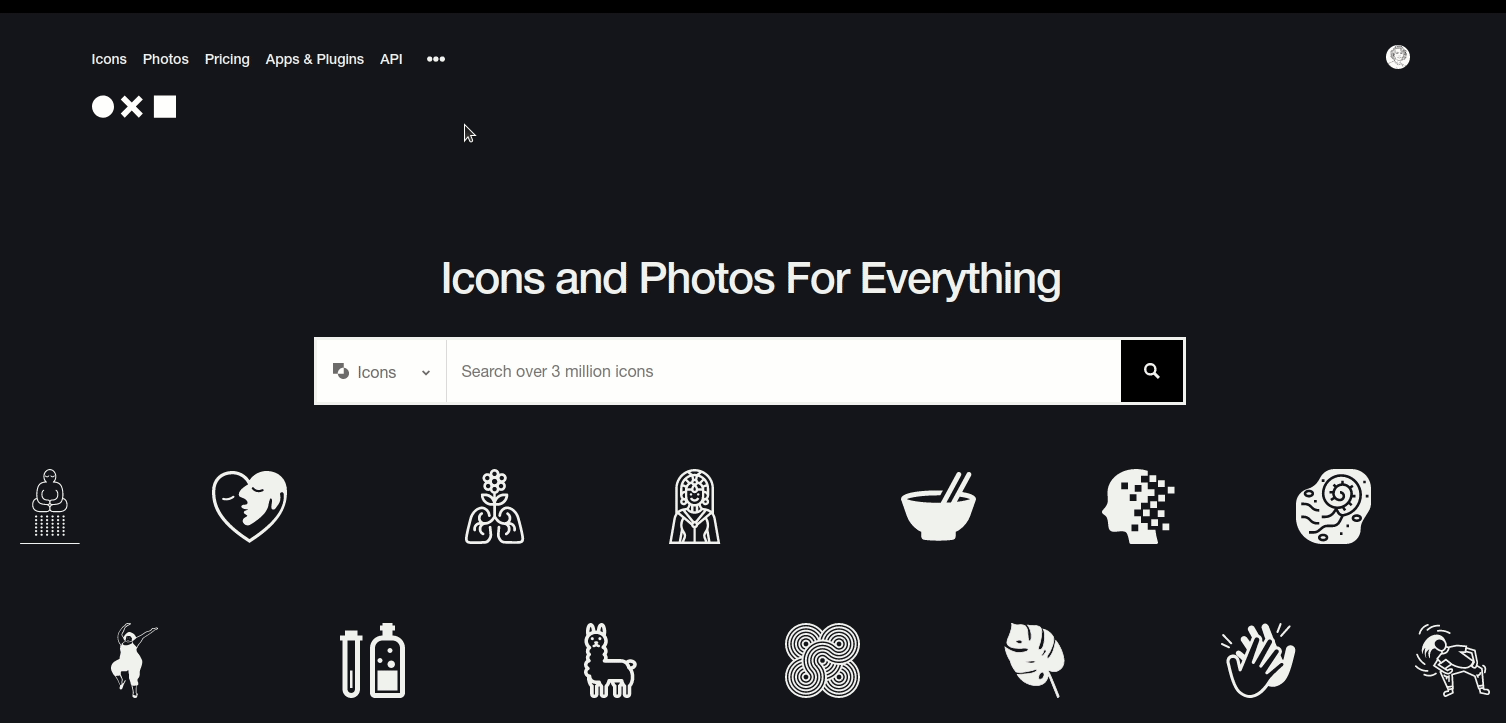 A last note to make on the use of icons from the Noun Project. If you try to download any given icon, the Noun Project will give you the "Pro Download" option (a paid one) and the "Basic download", as it appears in this image: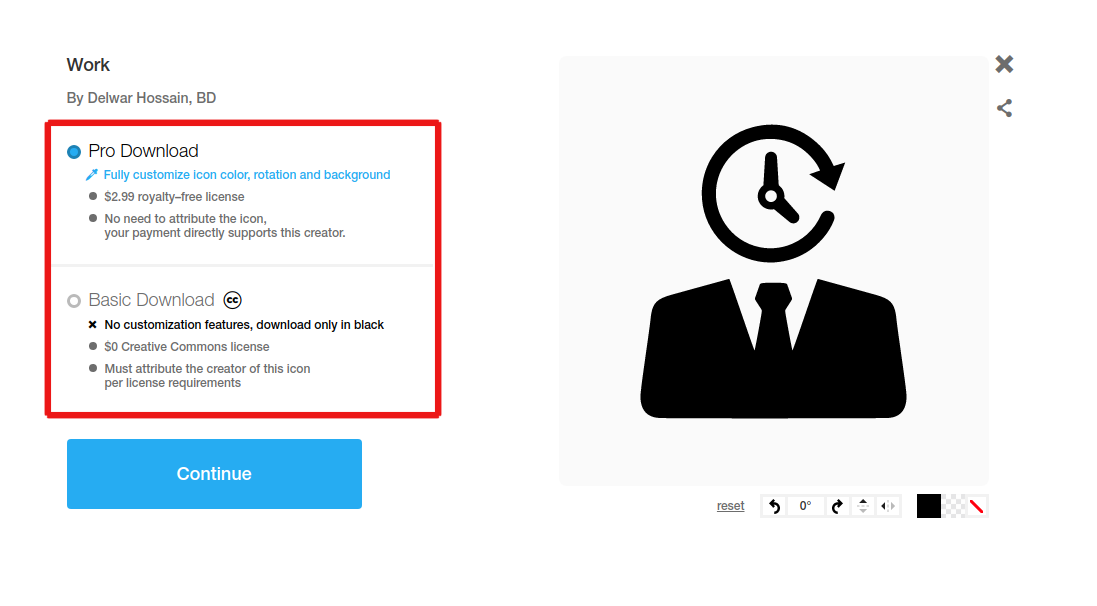 The "Pro Download" says that it gives you a vector that you can "Fully customize icon color, rotation and background". But if you click on the "Basic Download", it will offer you two file formats: PNG and SVG. The terms of the CC BY license (or if it's in the Public Domain) allow you to modify the vector. This means that if you want an icon in red or blue, you can still download the SVG, open it in your favourite vector software (for example, Inkscape or the SVG editor free webservice provided by Public Domain Vectors) and modify the icon as you see fit there. Don't forget to attribute the author, as seen in the TASL approach section.
Vector graphics: Public Domain Vectors
Public Domain Vectors is another website that offers over 60,000 vector graphics of different types of drawings. This website offers all their materials under a CC0 waiver, meaning that attribution is welcome but optional. This means that unlike other websites, you don't need to use any search filters for licensing. The website does offer useful search filters. 
You can filter by file format, by downloads or date, and by number of vectors that you want to have retrieved in each search: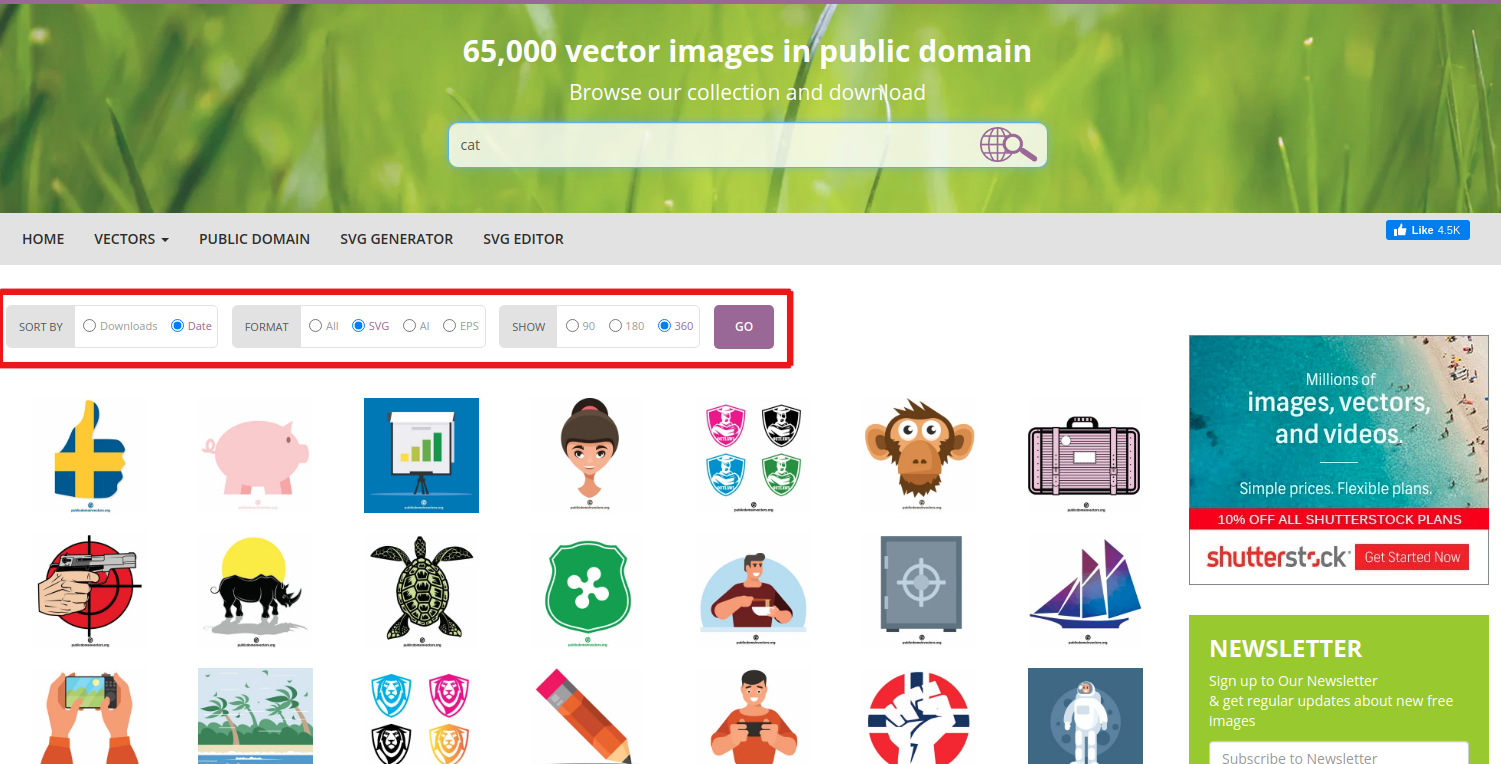 Additionally, you can do a search on any given topic, for example, "fist" and select one image you like, like "Vector illustration of freedom movement hand with pencil". The image will give you several details on the right, including the category to which it belongs (allowing you to navigate through similar, related categories), and other details such as the source; in the "Specs" you will find the file size, the date in which it was uploaded, and the number of downloads. At the bottom of the page you also have "Tags" and "Related searches" that could lead you to something in a similar line, if this doesn't do the job you need.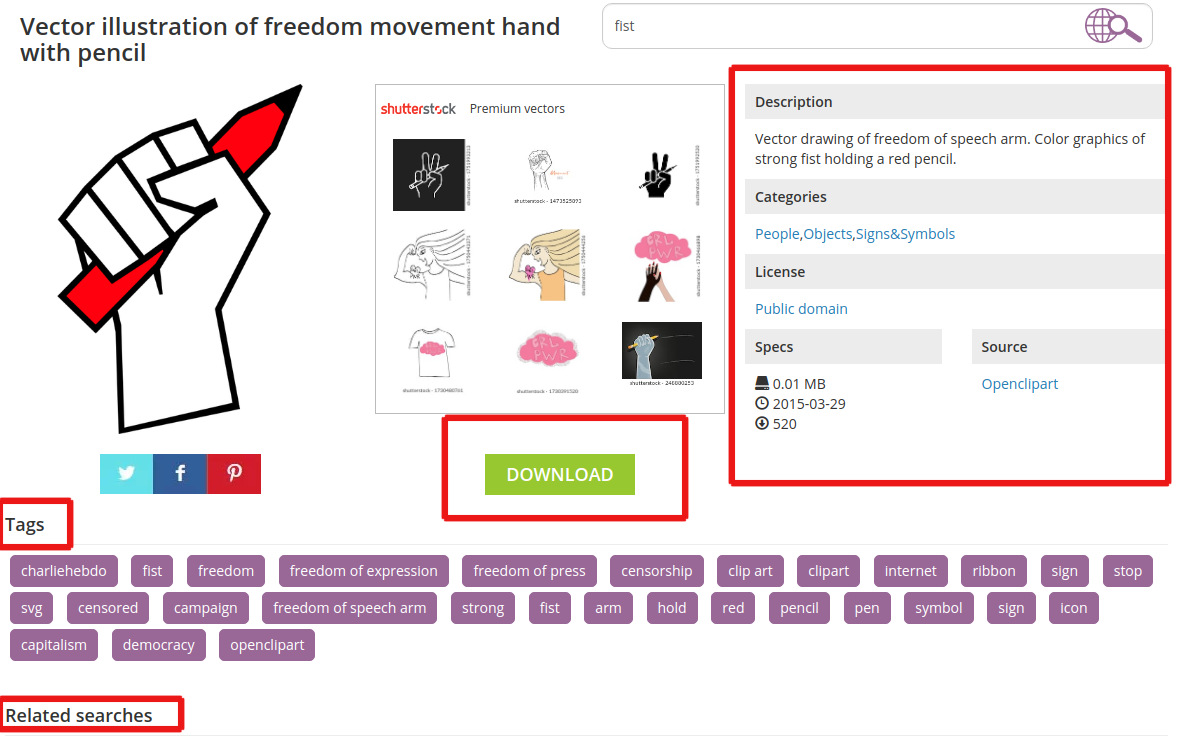 Images: Other websites
There are lots of websites that offer images either freely licensed or in the public domain. Every now and then you will find blog posts that highlight "public domain resources", such as this one: "31 Free Public Domain Image Websites". As that same article mentions, use these websites at your own risk, and always make sure that you understand the licenses and terms of conditions of the content that you are intending to use.
Sounds
Bandcamp
Bandcamp is an online music store and also a platform for independent music and artists. Most of the content in Bandcamp is marked as "All Rights Reserved", meaning that if you want to use that material you need to seek permission from the author or artist. 
Bandcamp has some special tags for music that you can freely reuse. Check the Creative Commons, the CreativeCommons (without spaces) and the Royalty-free music tag. However, this means that you might be spending a lot of time searching for something that matches the type of work that you are looking for. Luckily, there is a tool called Camp Explorer that allows you to search with different tags. In order to use the tool, you need to enter each tag that you want to search for and press the button that says "add". For example, to replicate the search shown below you need to write "creative commons", press the button "add", write the style of music you want to search for (i.e. "funk"), press the button "add", and it will retrieve you albums that match that criteria.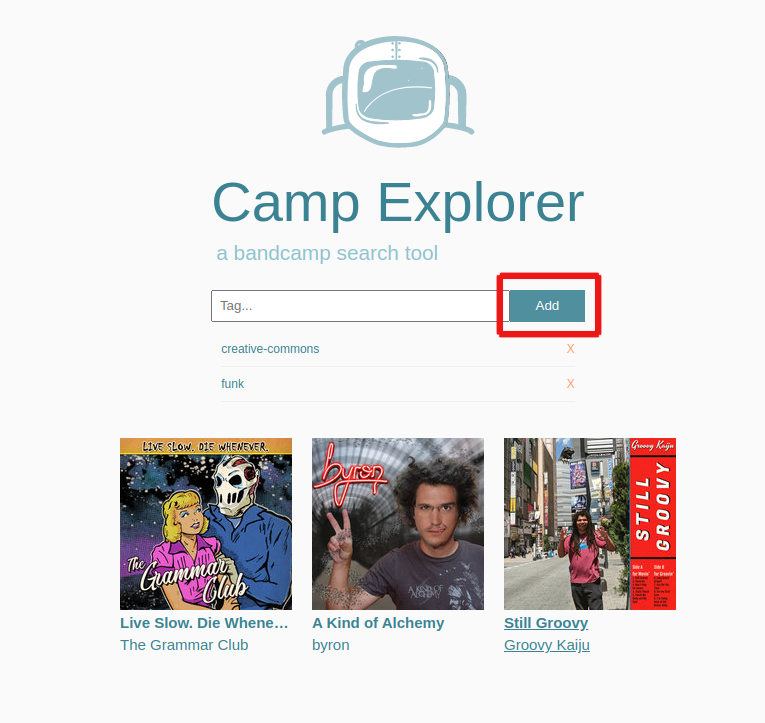 From there, suppose you go into the album "A kind of Alchemy". If you scroll down, you will find the license information, next to where the tags are. Remember to attribute using the TASL approach!

Soundcloud
SoundCloud is a platform where different people can share their audio recordings. These recordings can be music, podcasts, interviews, and much more. It also allows for uploading Creative Commons materials. Like Bandcamp, their search interface is sometimes hard to navigate. You can search for "Creative Commons music" and then filter by tag. Or you can also search with the "Creative Commons" tag.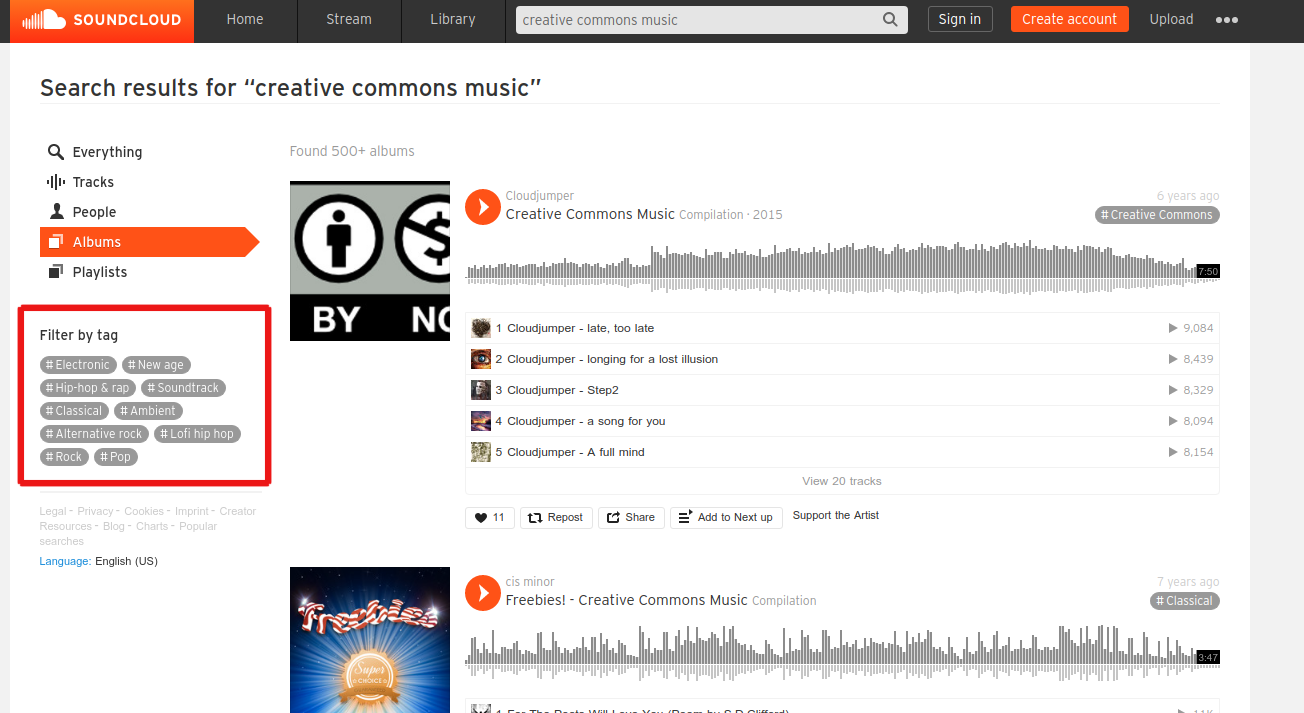 However, you have to be extremely careful when reusing this content. Most of it says that is Creative Commons but the people uploading this content are actually not licensing it with a Creative Commons license. Always go to the track and search for the "show more" button to find the attribution information. See for example in this track "Phlex - Light Me Up (feat. Caitlin Gare) [Argofox]"

If that credit line doesn't appear, then search for another resource that has it. 
ccMixter
ccMixter is a platform where musicians can upload their music. ccMixter uses three different licenses, two of them are CC licenses (CC BY and CC BY-NC) and the other one is a special license designed by them that provides royalty free music for certain types of uses. To search for content, you need to go to their service Dig ccMixter. You can search by filters or just type a manual search.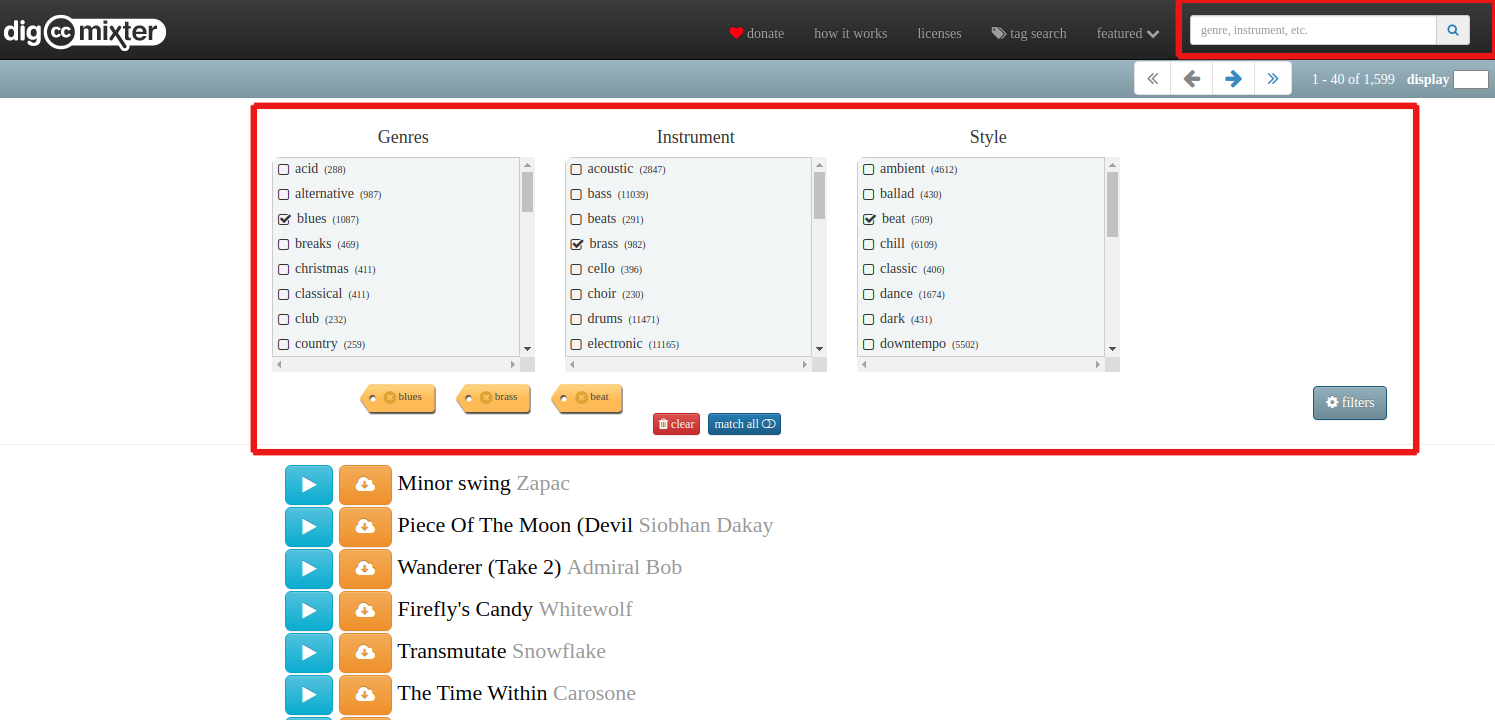 Since the website offers only two licenses, it is more likely that you will find a CC BY content easier, particularly if you use the search filters wisely. The CC symbols are clearly displayed at the right corner of every track.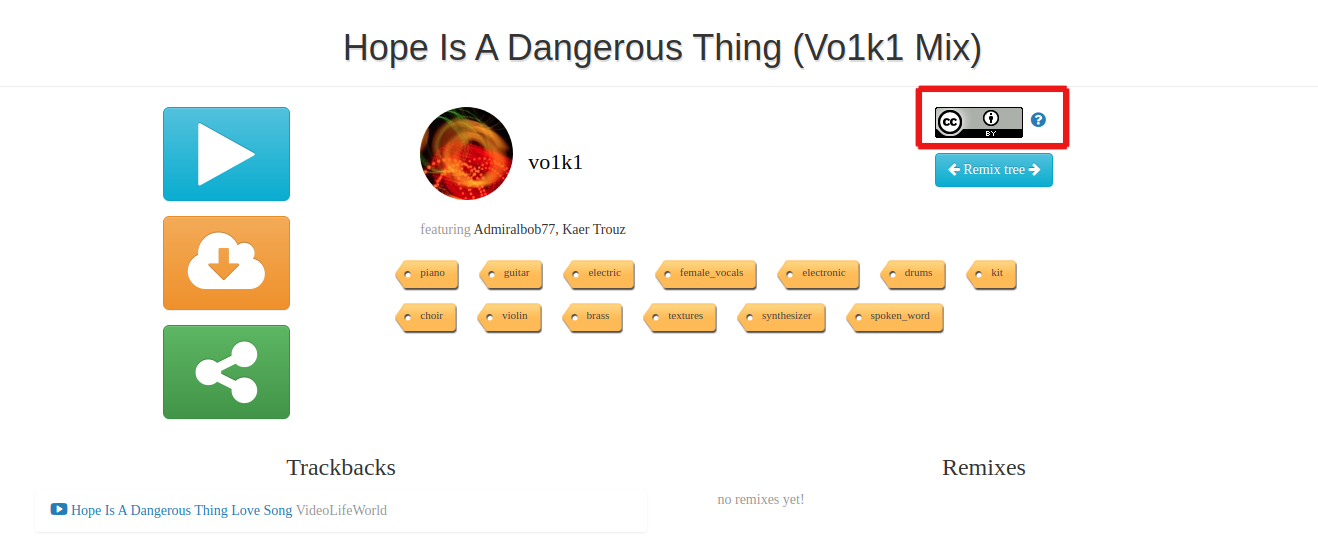 Free Music Archive
Free Music Archive is another platform for musicians and creators. It has great search features. Their search functionality also allows you to filter by license, track duration, and genre.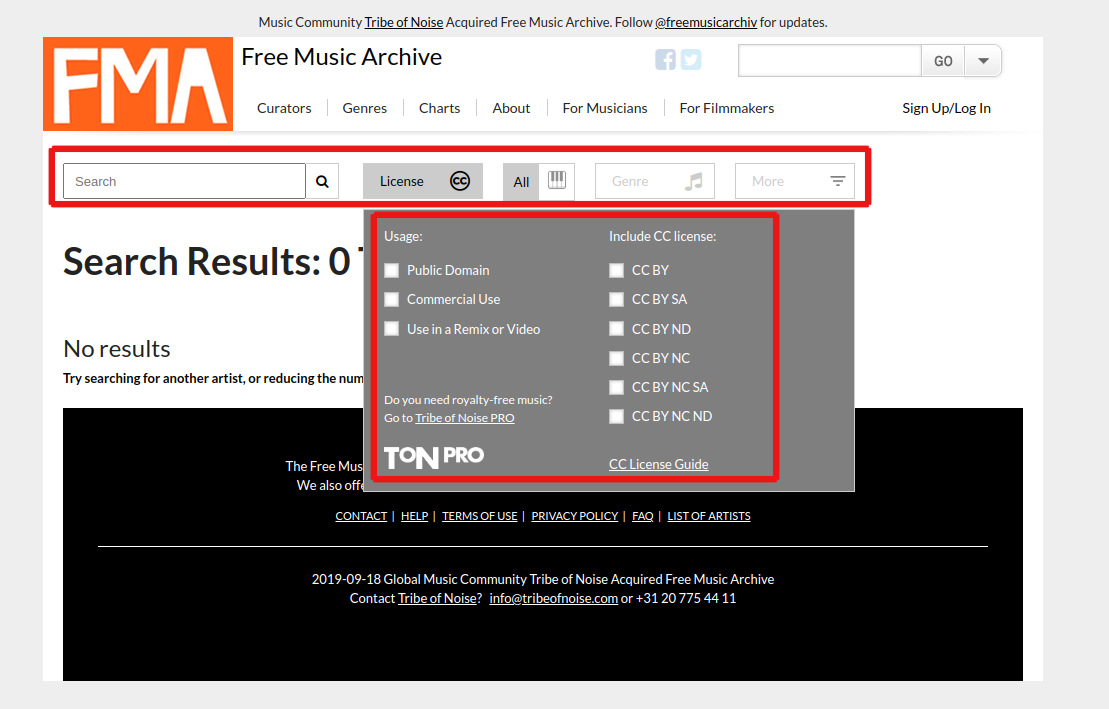 FMA also displays the CC licenses in very clear ways, and provides for a very complete TASL attribution that you can copy. See the example.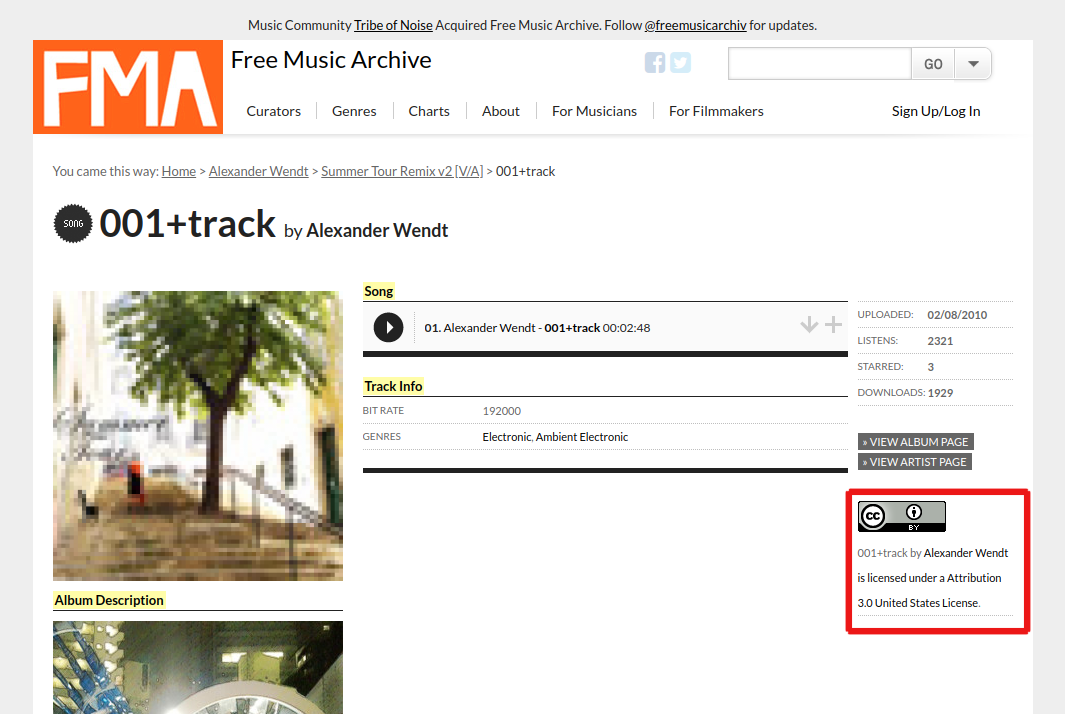 ---
1 Aggregators are websites that harvest or receive content from affiliated providing institutions, making it easier to search in one place for all the information.