Case studies
Case studies, which can be used to learn, discuss and engage in groups, give deeper insight and experiences into Tips and tricks on how to engage in internet governance spaces; Nine reasons why we need more feminists in internet governance; Role of gender report cards at the internet governance forum and Nepal IGF 2018: Revisiting the experience
Tips and tricks on how to engage in internet governance spaces
Over the years, it's becoming increasingly that we need to work together to bring in gender and sexuality and diversity into the internet governance spaces. This is not different from how we work in other spaces and other rights issues. Here are some tips and tricks learnt through trial and error from the past global, regional, and national IGFs which can help us work better and more systematically together:


Connect with your allies before you meet them
Prior to the meeting itself, ask around and find out who else is going to be present in the space. This will help in planning ahead in terms of collaboration, meetings which can be organised around the IGF, and simply to have fun.


Read the schedule
The schedule with the session briefs will tell you a lot about that particular IGF. How many sessions on gender will be happening there? Are there any sessions looking at sexuality? What about accessibility and disability? Spending some time with the schedule will help in strategising better on the interventions around gender and sexuality.


Strategise together
Have open conversations on who is attending which session so that people can bring in gender and sexuality in sessions where they are sidelined or ignored. People can also team up and attend sessions so that it is not the same person making several interventions which may be seen as taking up too much space. This will also be very useful for those attending the IGF for the first time and are still figuring out how to intervene.


Fill in gender report cards
The very first time when Gender Report Cards were introduced by APC, they were filled in by APC staff, partners and members. This can be done in the regional, national, and local IGFs were Gender Report Cards are not yet formalised. Through this, we can ensure that there is some data available on gender diversity and inclusion from the space. Distribute the Gender Report Card format well in advance through email, text messengers, or even bluetooth.


Use tools
Use technology and tools to your advantage. In the past, groups on Telegram and Signal have been very helpful for immediate coordination at the IGF spaces. For example, in case someone wants additional support in a session, they can message on the group and request for it. Questions which need to be raised can be shared on the group so that it is not just one person who keeps intervening. Several sessions, especially main sessions, also use tools like Slido to take more questions from the audience. Make maximum use of this. For example, in a main session on human rights which did not have any conversation on gender and sexuality, someone used Slido to ask a question on the rights of LGBTQ persons online. When this question was ignored by the speakers, others in the room reposted the question and brought it to the panel's attention. The anonymity afforded by tools like this is also helpful. The remote participation platform can also be used efficiently.


Debrief and connect at the end of a day
Set aside 30min at the end of each day to debrief and connect with each other on the day and sessions from that day. This will help in addressing any concerns from that day, and also in planning for the next day, including changing strategies. This time can also be used to remind everyone to send in their Gender Report Cards from the day to the person collating the same.


Ask for help
The IGF spaces can sometimes seem very formal, and it can be intimidating too. Remember that you have friends and allies with you, and you can always reach out for any help or support. And this is not restricted to only those who are physically present there.


Have fun!
Nine reasons why we need more feminists in internet governance
As someone who is always excited by the prospect of influencing policy making (yes I'm a policy geek who has accepted this identity), I have for the last few years been trying to encourage other feminists and queers to get involved in internet governance in our countries, regions and globally. It is not always easy to make the case for why internet governance is a feminist issue (only because there are so many interconnected reasons and it can sometimes turn into a confusing ramble), so I decided to make this listicle that will help articulate it better. 
1. The struggle
If the internet is a continuum of the public space, then our collective struggle exists here too.
While meaningful access to the internet continues to be affected by various factors such as gender, income, education, age, geographical location, class, etc., it is evident that the line between online and offline is increasingly blurring. The internet is a space for expression, exploration, play, activism and community building, especially for those who are marginalised, discriminated against and disenfranchised in society. We also see the same structural inequalities and challenges we fight on-ground manifesting on the internet in various ways and sometimes being amplified. Therefore, it is no longer possible to clearly demarcate where our struggle happens and dismantling capitalist patriarchy must include the internet. And if the internet is part of the commons, then feminist politics of reclaiming and defending the commons must be extended to the internet. One of the ways we can actively ensure this is by engaging with internet governance. 
Geek out: 

2. Early adopters
Feminists are not new to the internet and the internet is not new to feminists. 
Feminists and queers have always been interested in exploring the internet, playing with it, critiquing it, building and challenging theories on it, and remaking it. From Donna Haraway's Cyborg Manifesto to CyberFeminism of the early 1990s that emerged simultaneously but separately from the UK's Sadie Plant and Australia's VNS Matrix's "Cyberfeminist Manifesto for the 21st Century", feminists have been engaging with the internet and information and communications technologies (ICTs). The Fourth World Conference on Women in Beijing in 1995 recognised ICTs as critical for achieving gender equality, as reflected in Section J of the Beijing Declaration and Platform for Action (BPfA). It is in fact one of the first consensus human rights documents by UN member states to mention ICTs. Feminists and queers have always been on the internet and we must continue to be a leading voice in internet governance. 
Geek out:
3. More than numbers and protocols
Internet governance is about many areas of policy, not just domain names and IP addresses.
One of the common misconceptions about engaging with internet governance is that it is just heavily technical discussions full of jargon. This is not entirely untrue. Names, numbers and protocols used to be the main focus of internet governance, with academics and technologists leading the way, and as the internet became commercialised, these became contentious issues that led to the formation of the Internet Corporation for Assigned Names and Numbers (ICANN). However, internet governance has since evolved into what UNESCO defines as "the complementary development and application by governments, the private sector, civil society and the technical community, in their respective roles, of shared principles, norms, rules, decision-making procedures, and activities that shape the evolution and use of the Internet," and it is critical that feminist perspectives, analysis and praxis are brought into this. This is not to say that feminists are not engaging with the numbers and protocols or that we should not. Becoming a member of Internet Society is one great way to strengthen our capacities, as is attending schools of internet governance that happen prior to Internet Governance Forums in our countries. 
Geek out:
4. Corporate and state capture
Internet governance is by all of us, for all of us.
While national-level policy making has an impact on how the internet is used and shaped, it is undeniable that governing the internet cannot be business as usual due to the dynamic nature of the internet. Extraterritoriality and transnational cooperation are essential, as is the participation of all those who have a stake in using the internet in free, rights-based, affirmative and pleasurable ways. Essentially, all of us. However, the internet has not been immune to the impact of neoliberal economic policies and the corporate capture of states, public institutions and decision makers, with private companies and states taking up more space in internet governance. And "governance" gives immediate connotations of states, governments, laws, hierarchies, etc. which give the indication that there is no place for people in these processes. The Internet Governance Forum (IGF), which is the key policy dialogue forum on internet governance, actively challenges such hegemony through the core principles of the IGF: open and transparent, inclusive, bottom-up, non-commercial and multistakeholder. While the effectiveness of these principles in practice can be varied, the bottom line is that internet governance spaces and processes are open to all. 
Geek out:
5. Solidarity
Feminists are already engaging with internet governance but we need more of us.
Burnout is real, including in activism. And work in policy spaces can often feel very lonely and disengaged from ground realities. This can be especially true for feminists who are already active in internet governance spaces. Often it feels like the same group of people with the occasional new face once in a while, and this is why we need more feminists, especially from the global South and developing countries, to engage with internet governance. Policy advocacy is not everyone's cup of tea and many feminists are rightfully sceptical about the value of policy spaces. However, there are a couple of things we can do to show our solidarity: identifying and supporting feminist and queer activists who have an interest in policy to join internet governance processes, following and contributing to IGF discussions remotely, and disrupting the monotony of policy dialogue by introducing exciting topics and methodologies, to name a few. It is also important to note that increasing breakdowns in multilateralism mean we need different avenues to have nuanced and multistakeholder policy dialogue. IGFs, where there is no negotiated policy document or decisions, is such a space that we could consider engaging in.   
Geek out:
6. Feminists at IGFs
Let's occupy our national, regional and global IGFs. 
From red tape to resources, usually there are many challenges in accessing policy spaces. It can be very frustrating and it often feels like it is unworthy of the labour and effort. The core principles of IGFs have managed to remove some of those obstacles and IGFs are fairly easy to access, especially at national level. For an example, in Sri Lanka all I had to do to participate in and speak at the national IGF in 2017 was to reach out to the organisers (the Internet Society of Sri Lanka) and share my interest. While the experience in other countries might be different, on principle IGFs are meant to be open to anyone with an interest in internet governance, and this is something we can leverage. While regional and global IGFs are not as accessible due to travel costs, there is limited funding support provided for activists. The Asia Pacific Regional IGF (AprIGF), for example, tries to prioritise women in its fellowship programme, though still from very much a gender binary approach. The global IGF, depending on the host country, will provide limited travel support to attend the forum. It is also important for donors who support feminist initiatives to recognise IGFs as a potential advocacy space for feminists and introduce funding opportunities accordingly. Some other ways to occupy IGFs are to engage with them remotely, apply to join the Multistakeholder Advisory Group (MAG) of the IGF, and provide input to the priorities of the IGFs each year. 
Geek out:
7. Feminist feedback loop
Bridging the gap between internet governance and ICT policy making. 
While we see increasingly robust and dynamic discussions in internet governance spaces, especially through a feminist, queer and sexual rights framework, the nuances of these discussions often don't find their way to national policy making on ICTs. One topical example can be found in TikTok. It is currently the fastest growing social media app for short-form mobile videos and is experiencing a surge of popularity worldwide. It is a platform which is primarily focused on pleasure for the sake of pleasure (while of course making profit for the parent company). And policy makers don't know what to do with a platform like that, as shown by the recent ban on it in India, which was reversed almost immediately. This disconnect is also evident in policy responses to technology-related violence, and not just by states but also by the advocacy asks of some rights groups that are focused on demanding new laws rather than approaching the issue holistically and addressing the structural causes. So an important reason why we need more feminists in internet governance is to create a feminist feedback loop between feminist internet discourse and national-level policy advocacy. Such a feedback loop is also important in order to ensure that local and national priorities are reflected in the regional and global IGFs and that the learnings and outcomes from those spaces are brought back to our communities. We can also ensure that internet governance conversations are transmitted to human rights advocacy spaces we are active in and vice versa, so that there is more cohesion.  
Geek out:
8. Intersectionality
"My feminism will be intersectional or it will be bullshit." - Flavia Dzodan
The more feminists and queers we have in internet governance, the stronger the intersectional analysis of all things pertaining to internet governance will be. Of course, this also impinges on how well we exercise our feminist accountability practices to ensure that people with varying degrees of privilege are able to access these spaces and not the same group of people. This module on internet governance will be one way of ensuring that more people, especially feminists and queer people, feel better equipped to access, occupy and influence internet governance processes. Another is to localise and/or make our own feminist principles of the internet that make it easier to see the links between our work and priorities, and internet governance issues. 
Geek out:
9. Cross-movement building
Connecting the dots, breaking the silos. 
The final point brings us back to the very first point. If the internet is a continuum of the public space, then our collective struggle is also here. Therefore, it is essential that feminists and queers who are active in various movements are making links and working strategically and in solidarity. This applies to those engaged in internet governance as well. Almost every feminist priority makes an appearance in internet governance discussions: sexual and reproductive health and rights, LGBTIQ rights, freedom of expression, education, work and labour, corporate accountability, privacy and surveillance, etc. And in return, ICTs and the internet are increasingly coming up in all these priority areas. So there's a strong case to be made for more feminists, regardless of their area of focus, interest or expertise, to engage with internet governance. This is also critical towards more feminist knowledge creation. 
Role of gender report cards at the internet governance forum
Gender Report Cards (GRCs) are a mechanism introduced in the 2011 IGF by APC as means to determine gender representation among the speakers, moderators, and participants at the Internet Governance Forum. The report cards also help track the inclusion of gender in various dialogues here. The GRCs have four questions on them: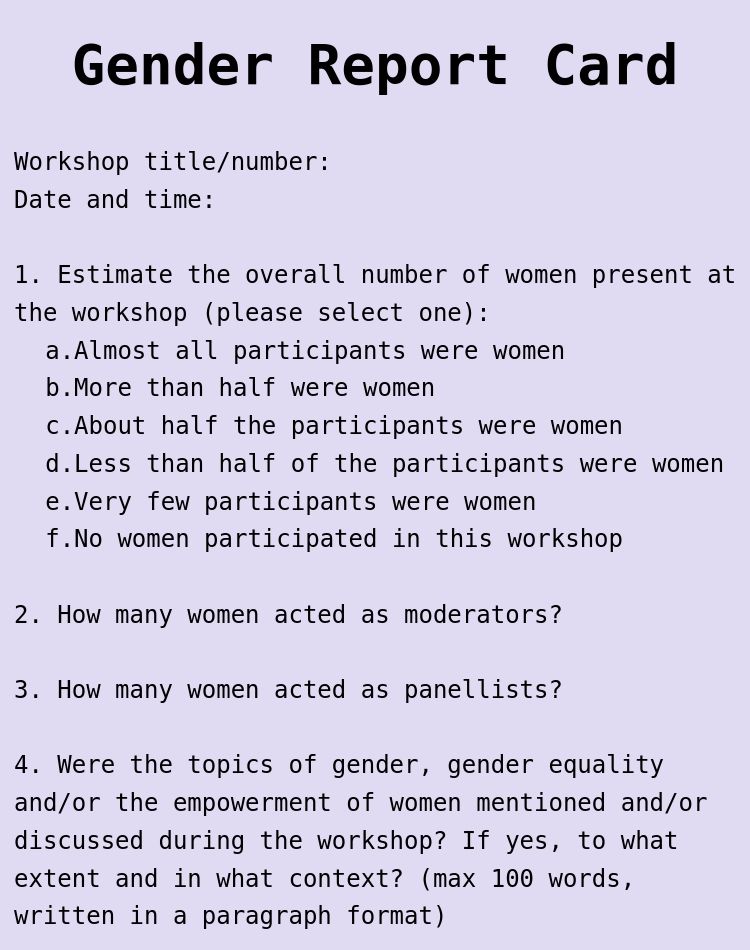 With the process being formalised and included at the global IGF, all workshop session organisers now have to fill this in when reporting back on their respective sessions. With years of data from the gender report cards, one can track the role and inclusion of gender at the internet governance spaces. They recognise Article 12 of the WSIS Declaration of Principles which states that:
"We affirm that development of ICTs provides enormous opportunities for women, who should be an integral part of, and key actors, in the Information Society. We are committed to ensuring that the Information Society enables women's empowerment and their full participation on the basis on equality in all spheres of society and in all decision-making processes. To this end, we should mainstream a gender equality perspective and use ICTs as a tool to that end."
Why do we need the gender report cards
Without specific numbers and data on gender at the policy spaces, it would very difficult to advocate for explicit inclusion of women and other marginalised genders at the table.



Knowing which discussions and dialogues have a gender perspectives and where this is absent will help us plan on interventions to actively bring in the gender lens in spaces which are absent.



This will also help push for bringing speakers who are women and persons of marginalised genders and a gender angle to dialogues and sessions where this is absent, for example in sessions which are heavily technical, sessions on human rights where gender may get left by the side etc.



More often than not, gender enters the internet governance discourse through online violence. The fourth question in the gender report cards helps in understanding if gender enters the content of the various sessions and dialogue, and also which aspects of gender, internet, and internet governance are given spaces. And what is left behind.



Is simply using the names of the speakers listed in the online schedule sufficient? A research comparing the information online and that in the report cards says no. This is due to the following reasons:

Those who actually speak at the sessions are often different from the speakers listed on the schedule. This could be due to last minute cancellations due to visa, travel issues, or clash of sessions for the speakers etc., but this means that the Gender Report Cards would provide the most recent and accurate data on this.

There are no gender pronouns in many of the schedule listings. Each speaker may needed to be searched for online to determine their gender. And this too can be problematic in case of a speaker who may not conform to the norms of binary gender presentation and expression.

There is no way to determine if gender was discussed at the session unless the gender report card is filled in after the session takes place. 
When it is clear that the usage of Gender Report Cards will truly help in measuring the progress of gender diversity and inclusion at the IGF spaces, there are also several challenges to this which are yet to addressed.
When workshop session organisers have to fill in the Gender Report Cards as a part of the post session reporting process, several of the organisers skip the questions related to this. In the 2017 Geneva IGF, Gender Report Cards were available only for 40% of the workshops, which is a decline from the 2016 IGF.

The gender reporting section of the report should be mandatory and the same should be stressed for all session organisers.

Currently, gender reporting is not done for all the DC sessions, and the main sessions. With these being a very important part of the IGF and essential spaces of discussion on larger emerging topics, the lack of data on gender in these sessions is concerning.

Gender reporting should be mandatory for all sessions and not just the workshop sessions. This includes the question pertaining to the inclusion of gender in the session topic and discussions.

The Gender Report Cards currently focus on gender diversity in terms of bringing in more women to the table. With gender being much more than the binary of man and woman, it is time that we started bringing in the gender spectrum to the internet governance spaces. A concentrated effort should be made to include other genders into the IGF spaces and the sessions.

One way of doing this in an inclusive and non-presumptuous manner would be to give a form to the moderator of the sessions at the beginning of the session which will allow them and the speakers to fill in their names with self-identified gender. The form should make it clear that speakers and moderator can fill in their self-identified gender and need not restrict themselves to the binary of woman and man.

We also need to push for the IGF registration portals and forms on the need to expand the gender options available in order to accommodate people of diverse gender identities. This will help in accurately determining the gender diversity in the space. An option of "Prefer not to disclose" is also essential.

Currently, the Gender Report Cards are only mandatory at the global IGF. There is no formalised way of tracking gender diversity at the local, national or regional IGFs.

Gender Report Cards must be mandatory for all IGFs and not just the global IGF. Gender inclusion at the global IGF is only so meaningful if this is not reflected in the local, national or regional IGFs.


Nepal IGF 2018: Revisiting the experience
We have seen two national Internet Governance Forums (IGFs) in Nepal, in 2017 and 2018. During Nepal IGF 2018, around 150 people were gathered from different sectors, including people from public offices, lawyers, techies, civil society groups and students, out of which approximately one fourth or less were female and queer people. The event lasted two days, with a couple of plenary sessions and two consecutive parallel sessions, and was held in a hotel in Kathmandu. The forum included a total of 15 sessions out of which three were moderated by women and two were specifically focused on women and queer people. Below is a group conversation facilitated by Shubha Kayastha among six women and queer participants who had participated in Nepal IGF 2018 to collate their experiences and reflections through face-to-face interaction and email conversations. Although the discussion was carried out more than six months after the forum, the conversation below captures the essence of how each of them understood and experienced being in the forum, along with some suggestions and recommendations. Below, you will hear views from Dikchya Raut (bureau chief, Nepali24hours.24), Pushpa Joshi (former staff, LOOM), Rita Baramu (programme manager, Body & Data), Salina Chapagain (law student), Shiwa Karmacharya (former Internet and Sexuality Unit team leader, LOOM) and Shubha Kayastha (co-founder and executive director, Body & Data). 
If you have to explain to someone what the IGF is, how would you do it, especially if they are a newcomer to this area of work? 
Pushpa: The IGF is a space where different stakeholders related to the internet come together to talk about innovation, tech-based solutions and pursue networking. 
Shiwa: It is a multistakeholders' platform which includes people from technical and non-technical groups to share and exchange information about their respective areas of work so as to come up with a new kind of programme or solution to problems related to the internet for the betterment of society, including policy-level discussions. 
Salina: The IGF is the forum where all the stakeholders related to the internet come together to discuss issues relating to the internet, maximise internet opportunities, and addresses challenges and risks that arise. It provides an opportunity to the private sector as well to input on policy formation.
How did you find the IGF as a first-time goer in 2018? 
Rita: It was a very new issue for me, so it was difficult to grasp everything that was going on. I didn't know such a conference happens in Nepal. To be honest, I found it quite formal.  
Shiwa: As someone who has been to the national IGF twice, I feel it is more like a gathering of a selected group of people who are already familiar to one another.  
Salina: Simultaneous sessions on various different topics made it difficult to catch up with everything. However, it was a good learning experience. It also gave me an opportunity to get acquainted with people working in diverse areas related to the internet.
Dikchya: The IGF in 2017 was quite fruitful for me as I got familiar with new people in important positions around internet-related businesses, thus it was a good networking opportunity. However, in 2018, when I saw the gathering of the same people with similar approaches and beliefs on their take on internet issues, I was quite disappointed. 
What was missing? What would have made it comfortable and safe, as you said it is quite formal? 
Pushpa: It would have been nice if the setting and discussion were informal. In addition, the sessions are always repetitive, and intersectionality is missing in the sessions. Like for example: sessions such as "how are sex workers using the internet" bring intersectionality between two movements. 
Rita: Now when I reflect, I feel like there was lack of diversity. Everyone looked corporate and formal. Most people were even dressed in black!  There were very few women. I didn't feel like [it was] the space for discussion around human rights advocacy.
Shiwa: I moderated a session on "Using internet for empowerment" where we discussed women's access to technology, use of the internet for movement building and for accessing information. I was a speaker in another session about the participation of youths in internet governance spaces. 
Shubha: I was trying to attend technical sessions because I wanted to learn, however those sessions were quite technical and I could not relate it to my work. There was also limited space to get clarification. 
Pushpa: They use a lot of jargon in the sessions, the moderators needs to simplify the terminologies for non-techies.  
Dikchya: Since I knew people in in the forum, it was easier for me to get around people, but I imagine how a newcomer in the space might have felt, as seeing people "trying to look important all the time" might be overwhelming the first time. I wish there was an orientation for the newcomers to explain internet governance process, that would have been better. Honestly, it would have been helpful to lessen the pressure of "having to pretend to know important stuff". 
Shubha: I felt distant from most of the crowd there and found it difficult to assimilate because of the limited number of activists at the forum, and we didn't feel welcomed in that space. Despite understanding the importance of networking, the environment wasn't favourable or comfortable.  
Salina: The participation of women was very low, and this kind of forum should encourage more participation of women. In a country with a patriarchal society like ours, the impacts that the internet has upon women are more severe, thus the voice and opinions of women are to be heard compulsorily, which the organisers seem to have missed out. 
What were your roles during the IGF 2018? 
Dikchya: In the IGF 2017, I was a moderator in the session on "Grassroots level initiative in Nepal" that witnessed youth in the panel. Since I was member of the multistakeholders group (MSG) and programme committee, I provided inputs during the meetings and managed sponsorship proposals. In the IGF 2018, I was again a moderator in a workshop, "Importance of participating in local, regional and national IGFs", which brought together youth involved in internet governance forums at the global and national level. 
Shiwa: In the Nepal IGF 2017, it was even difficult for our session to get accepted when we wanted to share findings from research on women and ICTs in Nepal by LOOM. We were told that the IGF is not a platform to share research outcomes by a few in the MSG. I think it is because of the reluctance to have issues related to sexuality in such spaces. In the Nepal IGF 2018, I was a youth representative in the programme committee, it was difficult for me to negotiate at many levels. We had proposed a Youth IGF, but most of our voices were ignored despite having a few supporters in the committee. Ultimately the Youth IGF did not happen. I had also proposed fundraising for the Youth IGF, as we were shown lack of funding being a reason, but my proposal was completely ignored. Being part of the programme committee, it sometimes felt we, as youths or as women, were being tokenised and our ideas were not implemented. 
Shubha: As a member of the hosting committee, I was supposed to support logistical activities, but I wanted to input more into the programme. So I drafted a code of conduct and got it approved by the hosting committee and programme committee which was shared during the forum. I facilitated an interactive workshop on "How can we make internet governance friendly to women and LGBTIQ individuals?". 
Pushpa: I was mostly a participant in both the national IGFs. 
Salina: Since I represented one of the organisers, I was involved in rapporteur work, and later contributed to the initial drafting of the report of Nepal IGF 2018.
What did you like about the IGF? 
Salina: The concept of this platform itself is fascinating to me. The ideas and opinions from multiple sectors are brought together in a common forum, thus, we get to understand diverse perspectives.
Shiwa: Compared to 2017, there were more women in Nepal IGF 2018 as participants as well as in organising committees. And the realisation that women's rights groups should be part of internet freedom conversations seemed to have increased. 
Rita: More than specific sessions, to have such an event where different aspects of the internet are discussed in one space is something very important. And incorporation of issues of marginalised groups such as women, youth and the disabled, though as tokenism, is something appreciable, though I am sure there has been a lot of background work that must have gone into it. 
Shubha: I felt that the sessions by Body & Data made people very curious. As we had the word "queer" mentioned in the title and we started the presentation with terminology related to queerness, people did listen carefully. It felt like intervening in a new space that is not a usual feminist space that we normally go to. 
Shiwa: I felt the same last year, I felt rebellious to be in a different space talking about our issues (gender and sexuality). 
Pushpa: I liked the session on youth and the IGF in 2017. I also liked how there were many young people. 
Dikchya: I like the fact that I am able to interact with especially representatives of the government sector and get updates from their work in progress. I feel that it makes them accountable to the common people and also makes them incorporate in their policies the feedbacks which are inclusive of the perspectives from other sectors as well. 
Why do we still need to engage despite all the challenges?
Pushpa: To make the internet friendly to women, queer people, those with disabilities, etc., their voices need to be incorporated. And in platforms like the IGF, such voices could be missed, thus we need to go. 
Rita: Yes, yes, we definitely need to engage so that our perspective on various issues around digital rights is not missed out. So even if the space might not feel inclusive and conducive for us, we need to continuously intervene. In addition, as civil society actors, we have our own agenda towards governments as well as the corporations, and the IGF provides an opportunity to advocate our issues with both the sectors.
Dikchya: Giving up is not a solution, rather working on the challenges will make things better for good. We should keep going in order to make the forum inclusive of women, youth and other minority communities. The IGF is a new concept all around the world, and I feel personally responsible to make it familiar to more of us, as I see the relevance and importance of this forum at the present day and time. 
Shiwa: The internet is not only used by those who make it. So going to places to tell people who build technology and develop programmes about its impact among different groups is very important.  
Shubha: As the IGF is a multistakeholder process, and it is different to UN processes, thus it becomes imperative for different stakeholders to engage and be part of the discourse. We also need to reflect on who within civil society is getting to participate. Civil society groups working with marginalised communities should get space in such platforms to raise the issue that concerns them. 
Salina: Being an end-user or representing certain gender group or academic groups, we should actively participate in such forums, and voices from our respective sectors are to be raised.
What could be done to make the space more open and inclusive? 
Dikchya: To promote the forum, it should be advertised in newspapers and social media along with articles and news. Ensuring funding to bring people living in under-representative districts will make the programme inclusive, or these forums could be taken to them. A webinar/online course a week ahead of the forum might also be a smart idea. We need to reach more allies.  
Pushpa: Also the event application should be shared widely along with the clear objectives and how could it be useful for people from different communities. The application form should be in both Nepali and English language. There is no follow-up, output to be shared and its impact on policy change and advocacy. 
Shubha: If the call for applications also clearly mentions different stakeholders who can be part of such processes, the space will be more diverse than the usual suspects. I did not see many techie women either, the representatives from tech companies were mostly men, women's participation was not pushed much. There have to be sessions around digital rights, linking information technology innovation and human rights, which were missing.  
Salina: Some sessions should be allocated for marginalised peoples and issues that are usually left out in such forums, for example, for women-related issues, legal issues and such. 
Shiwa: The internet governance spaces have to be widened to more people across different fields of work, which doesn't seem to be of interest to the organiser at the moment.  
Rita: The IGF is a big event so there could be some kind of advocacy that could be taken forward after it, which could be related to the policies against internet freedom and digital rights.  
Shubha: For most of us, our first experience with internet governance spaces was confusing and full of questions, so to make it easier for newcomers, some sessions around what the IGF is and its mechanisms could be included. Probably, a youth IGF and women's IGF are other ways to incorporate the agendas of various groups.  
Shiwa: The sessions could be more qualitative as there were not many applications that were submitted.  
Salina: Providing handouts from the sessions will also be useful. Further, the simultaneous sessions confuse the participants, having to choose, to decide on one out of many. The forum should encourage more discussions from the audience.
What do you think about the physical space? 
Shiwa: If the forum was organised in a university space or some bigger space, it would be better, so that a number of parallel sessions could be organised. 
Shubha: It would be good to have display tables and booths for people to present their work, including technology innovation, creative work, etc. There was no space to rest and for networking at the last Nepal IGF. The space could be more colourful and vibrant.  
Rita: The IGF was organised in a three-star hotel which makes it less welcoming at least for me, it creates a rigid culture. If it were done in a less fancy space, it would be a less corporate space.
Dikchya: I liked the place, because they had technologies that a forum like the IGF needs. Simple things like working mikes, lighting, a sound system and the on-site translation systems are a challenge in almost all the programmes organised in Nepal. At least that was handled well. 
The conversation was wrapped up with bowls of momos (Nepali dumplings).